Posted by Superhairpieces on Jul 21, 2022
Hairpieces are all the rage now. No matter what you identify as, if you're dealing with hair loss, you can wear a hairpiece such as a toupee or a wig to not only conceal any balding and get a full head of hair again, but also reclaim your confidence and self-esteem. To maximize this and get a fully natural-looking appearance, most customers tend to go for hair replacement systems using human hair.
But how are these human hairpieces actually made and what is the process that goes into producing toupees, wigs and hair toppers with real human hair? We will be looking at all of that in this blog post which, in the process, will help you make the right choice when you're making your next purchase of a hair system.
What are hair cuticles?
Before we proceed, it is important to know about hair cuticles and what role they play, particularly with hairpieces. The cuticle is the outer layer of the hair shaft that we typically see and feel. If you have a healthy cuticle, you will have healthy and beautiful hair. Not to mention, your hair will also look soft and shiny. Damaged cuticles will result in hair that looks dry and dehydrated.
Remy hair vs. Non-Remy hair
At Superhairpieces, we only use Remy hair with our human hairpieces. This is when the hair is extracted directly from the donor's scalp which results in hair where the cuticles are intact and all facing the same direction. The end result is hair that sheds less, is not prone to matting or tangling and is easy to brush. It also means the hair is smoother, shinier and healthier than non-Remy hair.
Non-Remy hair is collected from leftover hair with the cuticles not aligned in the same direction. Because of this, it is harder to brush and maintain which means there is a lot more acid used in the processing phase to burn the cuticles off and make it easier to comb. While the hair is now easy to brush and attach to a hair system, the overall hair has suffered and will likely look and feel dry and straw-like.
What Remy human hair is used by Superhairpieces?
At Superhairpieces, only Indian, Chinese and European Remy hair is used for our stock hairpieces as far as solid colors go. These are some of the most premium hair available in the world and are most commonly used with human hair systems, wigs, hair toppers and more. With grey hair, we offer synthetic options while customers can also opt for Yaki grey hair in a custom order.
For more information, you can refer to the following articles:
READ: What are the different types of hair used in hair systems, hairpieces?
READ: What are the different types of grey hair used in hair systems?
How is the hair processed?
Even Remy hair, whether it's Indian or Chinese hair, goes through processing. The main reason is to achieve a certain desired hair color. However, it's also to create a smooth texture in the hair shaft and get a consistent texture and length, especially when Remy hair is collected from a number of individuals.
To sum up the process as simply as possible:
Batches of hair are stirred into a solution of acid.
Once the solution penetrates into the shaft of the hairs, the cuticles will open up and dissolve.
Frequent tests will be done by a technician to check the progress of the hair.
Once complete, the hair is removed, washed and neutralized.
To remove the dissolved cuticles from the hair shafts, the hair is washed once more.
The hair is dipped into a bleach solution to help remove its current color.
Once complete, the re-coloring process commences.
The hair is permed once the re-coloring process is complete.
Finally, the hair is then rejuvenated and sealed with silicone and keratin treatment to prevent damage.
This process is done in a very organic way and can take as many as 20 days to complete. This process is also mainly for Indian and Chinese hair. However, European hair can also be processed, albeit, with a slightly different method which involves the unprocessed hair being handpicked and manually blended to match a particular color. Sometimes, a dozen batches of hair are picked up to achieve the perfect match. The reason is because it is very fine and delicate compared to Indian and Chinese hair.
How is the hair attached to a hairpiece?
Once the hair is processed, it's time to attach it on the base of the hairpiece whether it's a toupee, wig or hair topper. All human hairpieces are hand-tied by our factory workers and the process to attach the hair onto a base is called ventilation. Essentially, ventilation is another way of saying knotting.
There are different types of knotting methods, each of which serve their own unique purposes and provide a number of benefits. We will sum up some of the most common knotting methods below.
READ MORE: Find out 5 Basic Knotting Methods Used on Hair Systems
Single knots - Strands of hair are used and knotted in the same direction. While this does not provide volume or durability, it's good for those who prefer flat back hairstyles. Roots are not visible so the hair looks more natural.
Double knots - Strands of hair are used and knotted twice. As a result, these knots are more durable and provide volume for those who prefer a higher hair density. The downside is this comes at the cost of a natural-looking appearance.
Single-strand knots - One or two strands of hair are used per knot in this method. It is more time-consuming, but results in very natural-looking hair given that the knots are usually small and hard to detect.
Single reverse split knots - Strands of hair are split into two with the gap providing movement for the hair. They are more durable than single knots and not very detectable at the root since the knots are small. They are ideal for those who prefer messy hairstyles. This method is usually used on poly skin bases or poly skin perimeters.
Double reverse split knots - Strands of hair are split into two just like the single reverse split knots. The difference is the knots are knotted twice which provides more durability, but also makes them less undetectable. This knotting method is usually used for lace bases but only when single strands are being knotted. It's not suggested to use this type of knotting for the front of the hair system unless it is knotted with a single strand either.
V-loop - This is a type of ventilation technique, mainly used on poly skin systems, where the hair is knotted or looped into the base in a V-shape. This provides an extremely natural-looking appearance, but comes at the cost of durability which is why most hairpieces that use v-loop knotting are mainly disposable.
Inject - This is a knotting technique where the air is precisely angled and injected into the system that makes it look like it's coming out of the base. You will not see any knots and the end result is an appearance making it seem as if hair is growing from your scalp depending on the base you're using.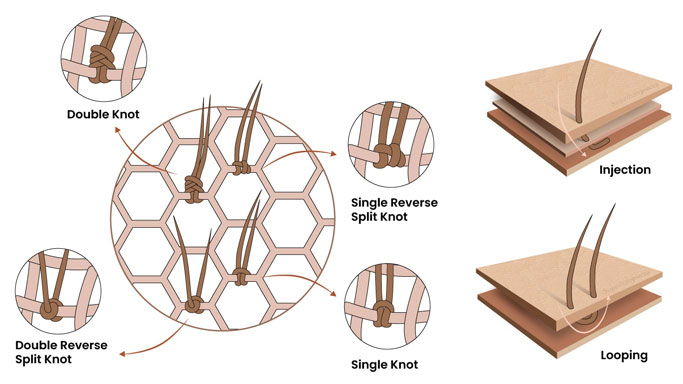 If you're looking for a new hairpiece, make sure to inquire about the knotting method to help inform you which one is right for your needs and requirements. The type of base will also play a role. You can read more about the different base types below:
READ: Lace vs. Skin vs. Mono: The Different Hairpiece Bases Explained
How is the hairpiece shipped?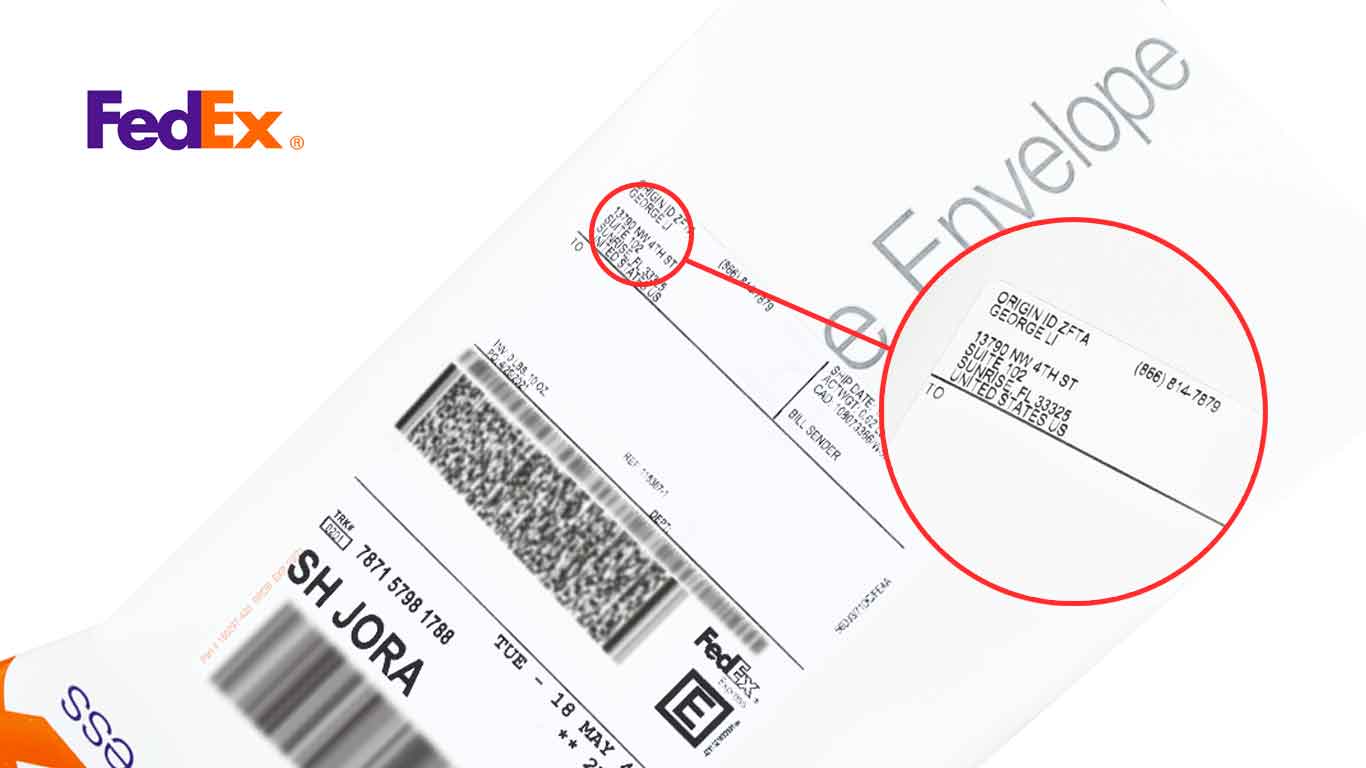 At Superhairpieces, we always take discretion seriously. We understand that not everyone is comfortable with others knowing that they are wearing a hairpiece or owning one in the first place. This is why we take steps to always be discreet when shipping out our hair replacement systems from not mentioning hairpieces on the package to even using our parent company name New Frontier Global. If anyone gets their hands on your package, they'll never know what's inside!
READ MORE: Superhairpieces Shipping: We are always discreet with your hair system orders
One thing you may notice when you open your order is that the hair is slightly curled or wavy. Most of our men's stock hair systems come with a wave. The purpose of this is to protect the hair, knots and base from any damage while it's being delivered to you. Of course, not everyone wants a curl with their hair. But with a few washes, your hair should straighten out.
Start your hairpiece journey!
You should now have a good understanding of how hairpieces are produced from the types of hair used, hair processing, knotting and how the systems are shipped out. If you're ready to get started with your first order, you can refer to the following links below:
-------------------------------------
Interested in learning more about hairpieces? Browse through our website at www.superhairpieces.com (US & International) or superhairpieces.ca (CAN)
Don't forget to tag us at @Superhairpieces and #Superhairpieces on your social media channels to get a shoutout! And make sure to like us on Facebook, follow on Instagram and subscribe to our YouTube channel!