Posted by Superhairpieces on Apr 30, 2021
The world of hair replacement systems can be daunting, especially if you're just dipping your toes into it. Not only are there different kinds of hairpieces — there are also different base materials which can be a struggle to wrap your head around initially.
However, you need not worry. We at Superhairpieces have provided this guide to explain all the different hairpiece and wig bases along with their pros and cons.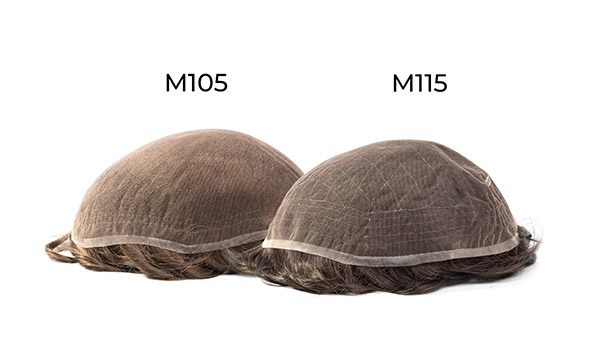 #Lace base hair system
One of the most popular bases is the full lace base. This is when wigs or toupees use lace material throughout the base which is tied with human or synthetic hair.
They are particularly beneficial due to the hairline being virtually invisible thanks to the natural looking lace material. This essentially gives you the most natural looking look with your family, friends or peers being unable to tell if you're even wearing a hair replacement system!
Additionally, they are lightweight, breathable and very soft making them a popular option for those looking at non-surgical hair replacement systems. However, they can be delicate so they not only carry less hair density — the volume of hair — but are not very durable as a whole. In addition, the knots can be visible while there is plenty of maintenance required as far as attaching, removing and cleaning them.
People dealing with hair loss also have the option of getting French lace or Swiss lace with their units. French lace units are less natural looking but provide great durability. Most lace systems use French lace as the default material. Swiss lace units, meanwhile, are more natural looking but aren't as durable in comparison to the former due to how delicate it is.
Some of our most popular full lace units include the M105 and the M115.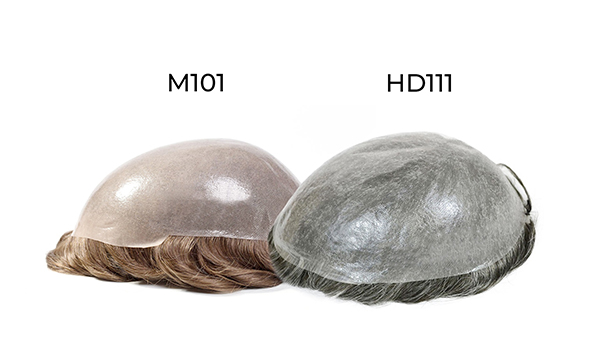 #Skin base hair system
Skin bases, particularly the super thin or ultra thin skin bases, are known to be the thinnest or lightest bases available on the market.
Ultra thin skin systems notably come with v-loop ventilation which makes them extremely natural looking. However, they are also delicate as a result, which along with delivering a natural look is why they usually carry less hair density, while poly systems in general are not very breathable. So with that in mind, they are not the most ideal option for those in warmer climates or those who are active or work out regularly.
In general, the thicker the base, the more durable it is. This is also why monofilament or lace bases that have a construction with poly skin are more durable than those without it. With that said, the thicker the base, the less natural looking the full poly skin system will also be. This is usually the case with hairpieces in general as there is always a trade-off between a natural look and durability.
Among our most popular skin base units are the M101 and the HD111.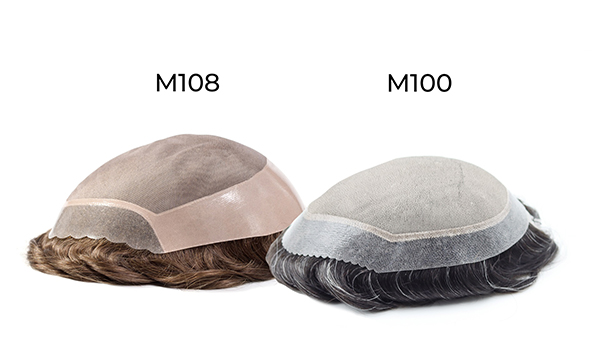 #Monofilament base hair system
Monofilament bases are one of the more durable as far as hair system bases go. This is when individual hairs are tied to a mesh material which gives the illusion of hair growing from the scalp.
They are soft and comfortable to wear while they tend to have a longer lifespan than full lace or skin bases. This is because monofilament systems are usually constructed along with poly or lace, the former of which provides extra durability. As a result, they can hold greater hair density and are ideal for those looking to wear hair systems on a more semi-permanent basis. That said, they are not as breathable as a lace wig.
Our most popular mono base systems include the M100 and the M108 and the M112.
Hair System Base Material Pros vs. Cons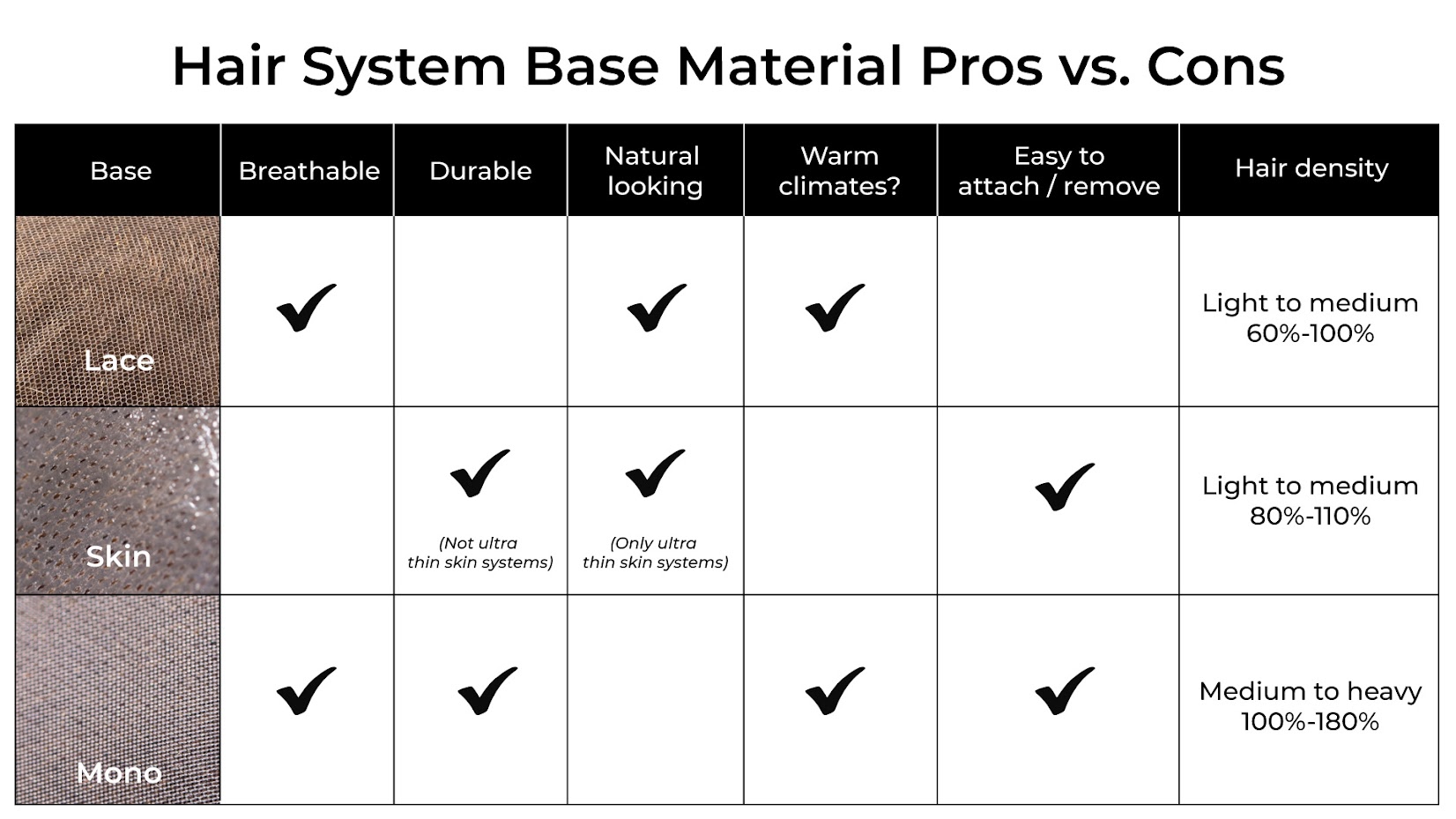 #Other base options
A more enhanced version of a full lace base is the lace with poly base which provides slightly more durability. Additionally, it's also easier to attach and maintain due to the poly material.
A more enhanced version of the mono base is the lace front base which provides a natural looking front hairline thanks to the undetectable lace. However, it is more durable than a full lace system because of its fusion with mono material.
Which hair system base material should I choose?
As for which hair system base material is right for you ultimately depends on your needs and your lifestyle.
Hopefully, the above information has given you a better understanding of the different materials and which ones might be suitable for you.
-----------------------
If you have any further questions regarding the different hairpiece bases, please feel free to contact one of our Superhairpieces reps today at 1-866-814-7879 or email at sales@superhairpieces.com. Our office hours are Monday through Friday from 10:00 AM to 5:00 PM EST.
Be sure to subscribe to our email list to ensure you get all the product information you need.
Don't forget tag us at @Superhairpieces and #Superhairpieces on your social media channels to get a shoutout!