This fast mold kit includes 3 group of clear plastic mold for custom order hairpiece template with pre-marked lines.
Each Group template contains 6 molds with different levels of contour from each other.
Shallow contour group - 6 contour level molds

Medium contour group

- 6 contour level molds

Deep contour group

- 6 contour level molds
Total 18 contour level molds included in this set
Lines marked on each template, F1, F2, F3 means front line 1, 2 and 3. B1, B2 B3 means back line 1, 2 and 3.
P1, P2 is the left parting line, P3 is center parting line, P4 and P5 is right parting line.
L1, C1 and R1 means the crown spot from left, to middle to right.
You can use this toupee for men as a custom made order template alternative.
Apply this plastic template on top of client head, write down the line number that fit the client head best.
If none of the lines fit for client head, you can simply send us the tape measurement on top of the plastic template.
Shipping Policy
Shipping charges are automatically calculated based on the shipping method, weight of the products, the destination and the number of items in your shopping cart.
Please allow 24-72 hours if you select an online styling (base cut and/or haircut). After completion, your order will be shipped depending on the shipping method you have selected.
ALL orders placed online with Overnight Ship must be submitted and received before 4:30pm Eastern Time. Any order placed on the weekend, or on a holiday, will be processed the next business day on the calendar. Please expect delays during holiday season.
Please refer to our shipping page for more detailed information.
Return Policy: Stock Hairpieces
You have 15 days from the date of purchase to return your untouched hairpiece for a full refund, minus the shipment paid.
A restocking charge of $15.00 or more per item will be automatic applied if the returned item is not in its original condition and packaging.
If you have selected a final sale option, such as base cut, hair styling, bleached knots, perm, or any service that alters the hairpiece permanently, the hairpiece can no longer be returned or exchanged.
Any special requirements need to be addressed at the time of the order being placed.
Return Policy: Hair Extensions
Returns accepted within 2 weeks of ordering, they must be in their original condition and packaging.
After 2 weeks an 80% credit of the value will be added to your account towards future orders.
Large returns are subject to a handling fee.
No returns after 3 months of ordering.
Return Policy: Supplies
All supplies are final sale and cannot be returned or exchanged under any circumstances. This policy is strictly enforced.
Overstock and Final Sales Items:
All items located in the overstock and clearance category are final sale, no return, no exchange, no refund.
All online services items including base cuts, haircuts, perms, bleached knots, and coloring are all final sale. There is no return, no refund and no warranty once the hairpiece has been permanently altered.
Frequently Asked Questions
There's a good chance you will get your custom order placed in January or February in May (2-3 months waiting time).
However, with all the disruptions and uncertainties during the pandemic —and depending on the type of hairpiece you order— the average waiting time for custom orders is 5-6 months.
Here's how it looks now in May 2021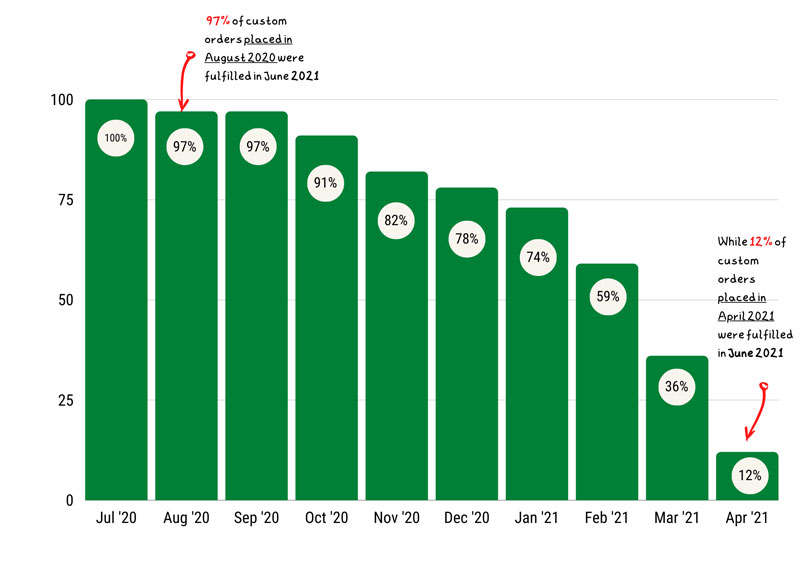 And here's our custom order fulfillment progress in 3 months (since March):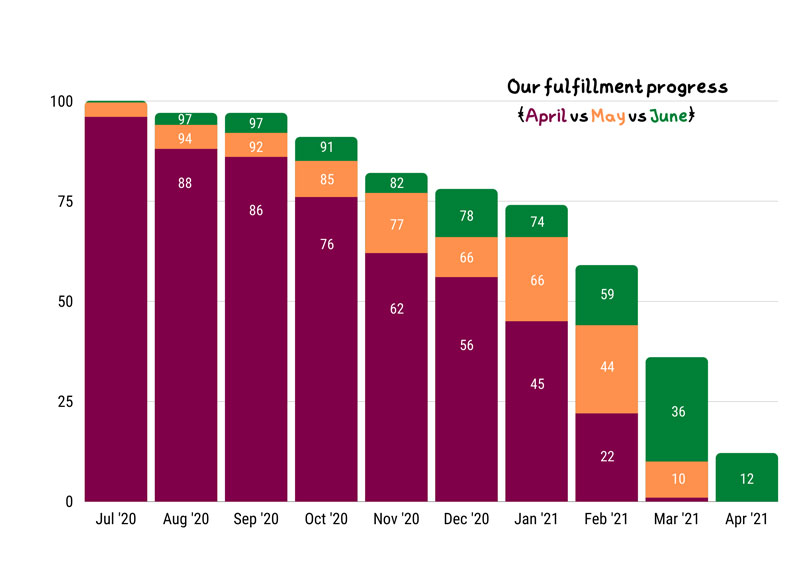 ×