Posted by Superhairpieces on Mar 10, 2022
French lace is one of the most sought-after hair system base materials. It's also one of the more expensive base materials as a result, and because of this, some hair replacement system suppliers tend to deceive customers by labeling low quality or fake material as the genuine product for cheaper prices.
However, there are ways to differentiate between real French lace and fake which we will take a look at in this blog. You can also view our video below:
Why is French lace so popular?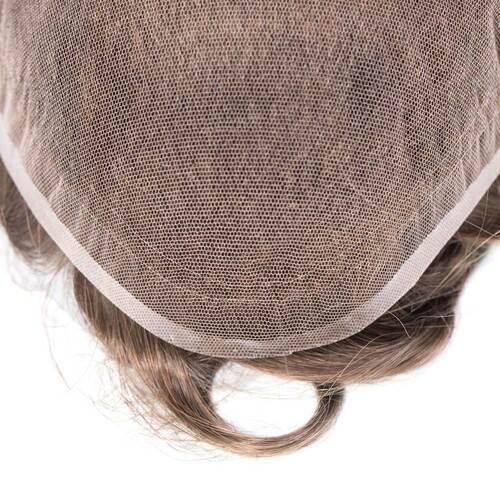 Before we go ahead with how to tell the differences between genuine and fake French lace, let's explain why French lace hair systems are so popular in the first place. French lace is the default material that is used for full lace or lace front human hair systems. This material is known for being very natural looking and those who value a realistic and undetectable look usually tend to go for lace systems.
French lace is not the only type of lace, though. There is also Swiss lace which is more natural looking as a whole compared to French lace. An example of this is our M115 Swiss lace hair system. However, this comes at the cost of durability as Swiss lace hair systems are usually much more delicate. Overall, lace hair systems are more expensive than other types of hair systems because of the natural looking material which is also pretty durable (compared to an ultra thin skin poly system) as well as breathable.
That said, they can only usually carry a hair density of 60% to 100% due to the material being lightweight and not strong. The maximum hair density Superhairpieces lace systems offer is 120% medium with the HD105 and M103 units.
Telling the difference between real and fake French lace
Now for telling the difference between real and fake French lace, it can be difficult if you're only comparing them using pictures online. However, if you look closely at the following images, you can see that the fake French lace on the right looks rougher and is generally thicker than the genuine French lace on the left. As a result of this, it is also more rigid which means it is less likely to form to your head shape.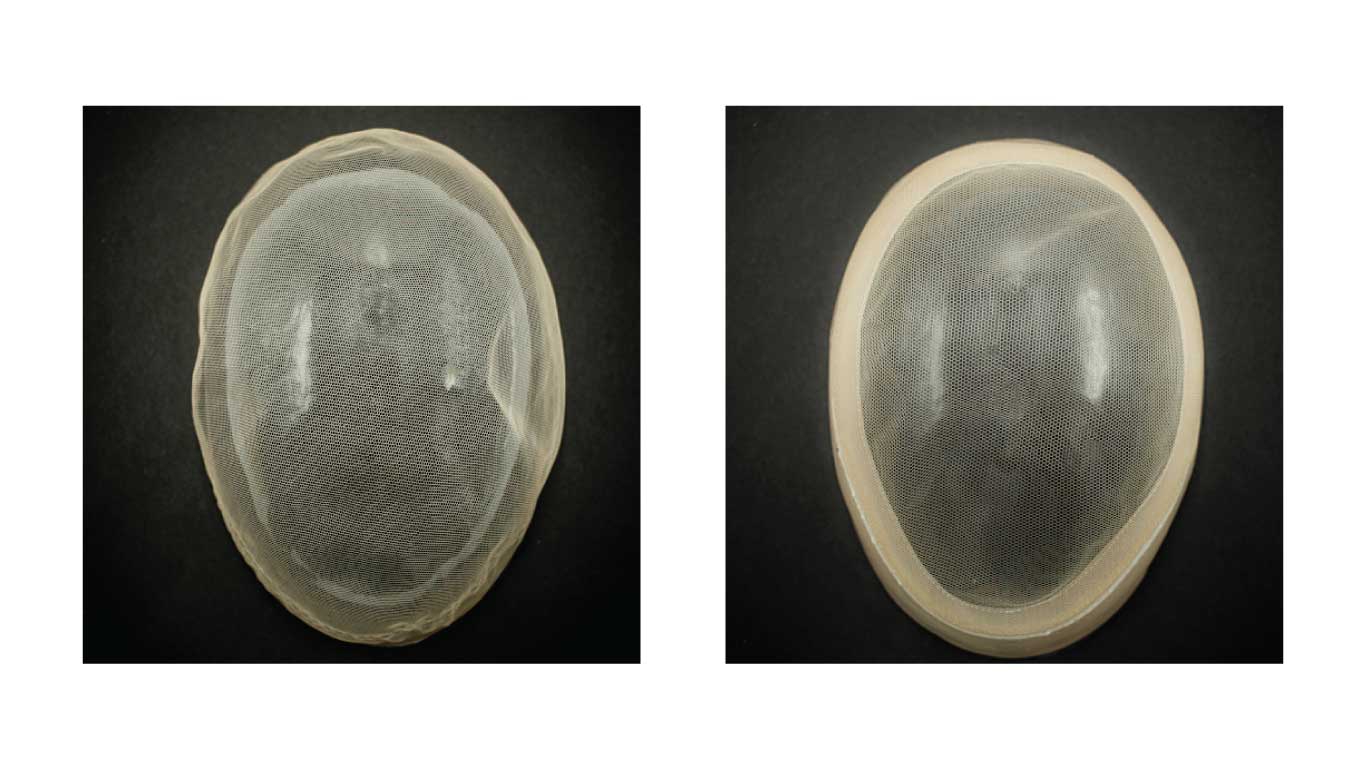 At Superhairpieces, all of our lace materials are made from the same factory in Switzerland and the genuine French lace pictured above is the same. The fake French lace on the right, meanwhile, is from South Korea. If we look closer at the materials zoomed in, you will also see that the real French lace has a smoother texture compared to the fake one.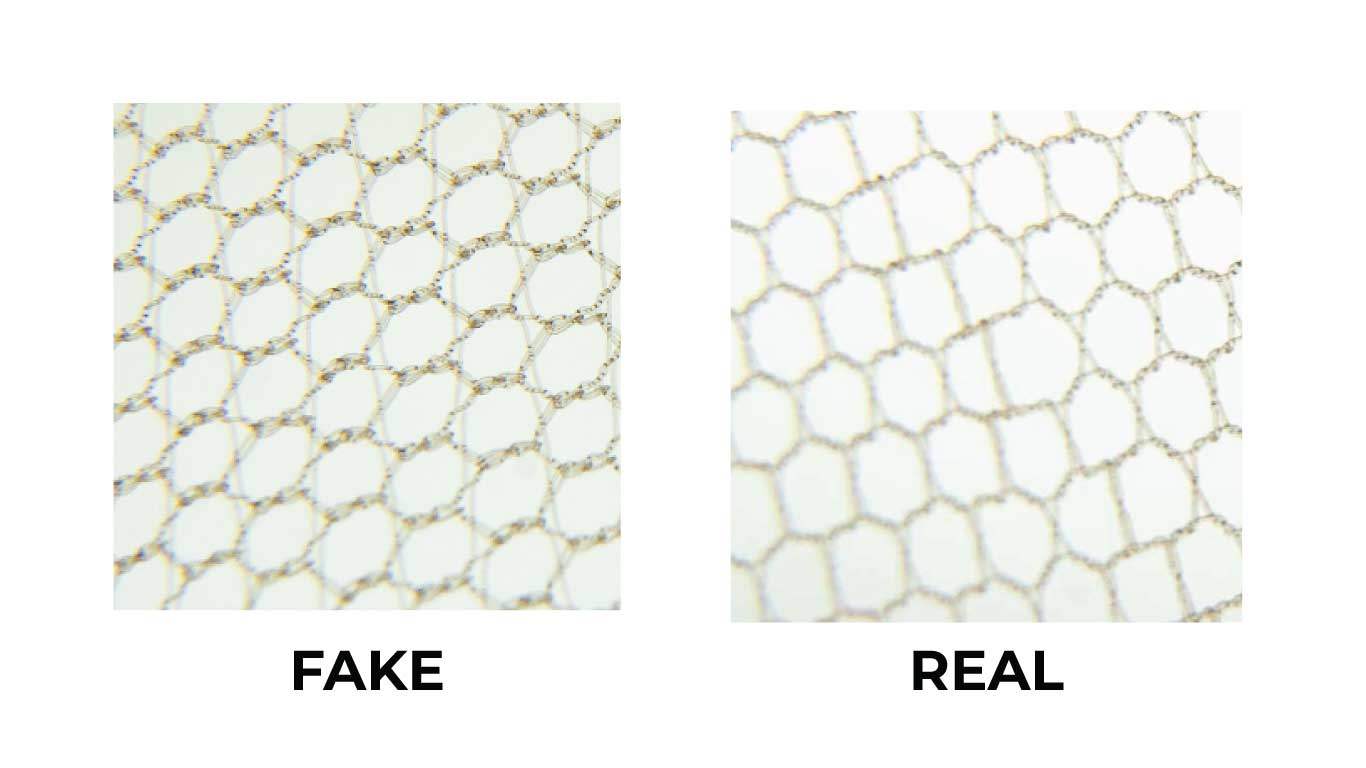 In addition, the fake lace is thicker as a whole which can make it harder for the material to match with the skin tone of the wearer. With the genuine lace product not being as thick, the result is a more undetectable and natural hairpiece.
It can be tricky to tell the difference without actually feeling the materials. But when comparing the pair in person, the difference is very obvious. The genuine product is much softer and just feels higher quality in comparison to the fake product. For hair wearers, the preference is to always have a softer hairpiece as it results in a more comfortable wearing experience and leads to less irritation.
At Superhairpieces, you can be rest assured that all our lace systems are genuine, so you can always use our systems for comparison purposes. Another way to tell if you're ordering genuine French lace material is the price you're getting it at. Like most things, you pay more for quality, and if you're seeing French lace hair systems listed at prices below $150 for example, it's a red flag to be wary of. It can be tempting to go for a cheaper option, but it's not really worth it when the main benefits of lace systems are how natural looking and comfortable they are which justifies the price difference.
As an example, the most affordable full French lace hair system at Superhairpieces is the M105 hair system which is currently listed at $259 at the time of writing. Given that Superhairpieces offers the most affordable prices even without discounts being applied — especially as we have our own China factory with no middlemen involved — you can be rest assured that if the price is significantly lower, it is likely to not be genuine. Alternatively, if the price is significantly higher, there is a chance you are being overcharged by other suppliers.
But with that said, there are suppliers who can also overcharge even when offering fake lace, so hopefully with the help of this blog, you'll be able to decipher what is real and what is fake French lace wherever you are ordering your material from.
Interested in buying a genuine French lace hair system?
--------------------
Don't forget tag us at @Superhairpieces and #Superhairpieces on your social media channels to get a shoutout! And make sure to like us on Facebook, follow on Instagram and subscribe to our YouTube channel!