Posted by Hadi Azad on Jul 28, 2022
Most men can vouch that skin fades are an art form, so much so that it represents contemporary men's hairstyles due to their popularity and visually appealing outcome. The process requires attention to detail but once complete, it can leave a person feeling fresh and confident. Suddenly, men with freshly cut fades are running unnecessary errands they previously didn't want to do while their significant other is waiting for them to get back home.
So what is a fade? A fade is when the hairs on the sides and back blend from short to long strands of hair climbing to the top. The fade is noticeable as your skin will appear pale at the bottom and gradually become darker as you gaze your eyes higher. During the process, the barber sways their clipper up and down in a C motion and clicks and clacks to change the guard length to ensure a butter fade effect.
If you're a hairpiece wearer, you may be thinking of jumping onto the bandwagon of rocking one and wondering if you can get a skin fade with a hair system on. In short, yes. But it all comes down to the type of skin fade, the barber's craftsmanship, and most importantly, the hairpiece.
You've come to the perfect place as we will unravel all your concerns in depth in addition to the best tips and tricks to ensure an ultimate natural-looking finish to your hairpiece.
Which type of fade is suitable for hair systems?
The fade level is determined by how low the hair drops below the top of the head. The lower the hair drops and blends to the skin, the lower the fade – in other words, the more skin that is revealed, the higher the fade.
You should choose a type of fade that best outlines your head shape and hairstyle.
High fades are best on individuals with square, round, and heart-shaped faces. Styles like the quiff and pompadour are ideal as they will make the head appear longer and for a more balanced facial structure.
On the other hand, if you have an oval, rectangular, or diamond-shaped face, you should get a medium to low fade as it's neat, clean, and easy to maintain, in addition to suiting your facial structure.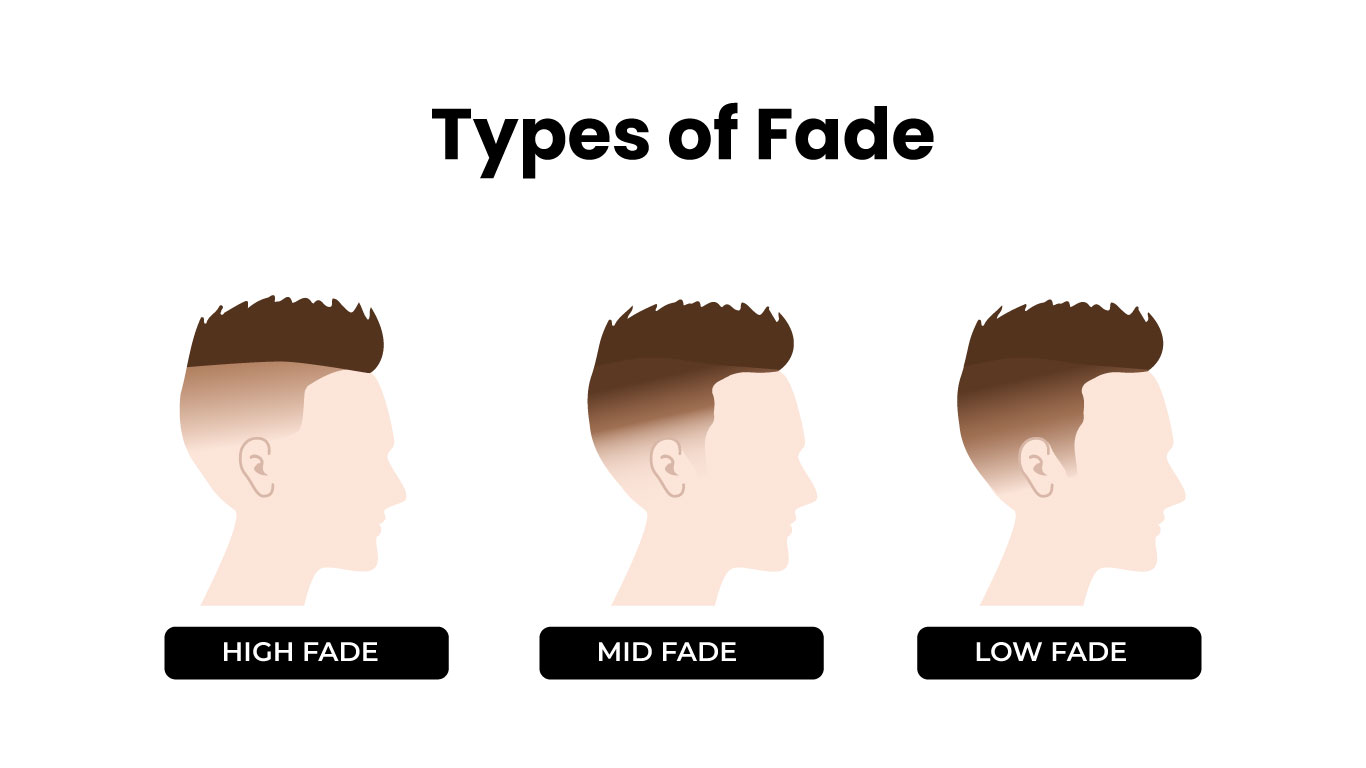 #1 High Skin Fade
On a high skin fade, the hair tends to blend within two inches below the top of the head. A lot of skin is apparent, and the fade isn't that noticeable since it's high up on the sides and back, causing a lot of skin to show.
Is a high fade suitable for hairpiece wearers?
Well, it depends on the hairpiece length, density, and how it looks attached to your scalp initially. But the answer is leaning more towards no. The ultimate goal is to achieve a natural-looking finish. A high skin fade haircut will compromise the hair system's natural look – all that balding skin on the side will make your hair unit noticeable. However, a high fade might be able to suit your head shape. In this case, you can try a regular high fade and see how that turns out.
#2 Mid Skin Fade
The mid skin fade is one of the more popular types of fades as you can't go wrong with its exquisite finish that showcases a delightful blend of short to long hair on the middle of the sides and back of the head. In short, the fade line is very close to the temple area.
Short to medium hair length is advised as it allows the hairpiece to transition into a natural look – if anything, the fade can complement the unit further. You can experiment with trending hairdos from a French crop, comb-over, and more!
#3 Low Skin Fade
A low skin fade haircut is suitable for individuals who prefer to conserve their hair from the top half of their head down to the ends of the temples. It can be the most natural-looking and versatile choice because it spoils the wearer with styling possibilities.
Tip: when picking out a toupee, ensure the hair unit is similar to your natural hair color, texture, and thickness in order to optimize the natural looks further.
This fade is also known as a drop fade because the line drops from the temple and ends slightly behind the ear. It's ideal if you prefer further coverage on the back of your head – it allows for versatile hairstyles, whether you want to have long hair to the slick back or shorter sharp hairstyles.
Superhairpieces stylist Christina Luu suggests that if you're sold on getting a skin fade, choose a low fade as it'll turn out to look more natural and prevent potential complications.
"Skin fades are suitable for hair systems depending on how it's blended," said Christina. "If the sides are too short, you have to make sure the sides and back blend in because as soon as it starts to grow, the hairpiece shifts, and then you end up seeing the bald spots at the back."
Consequences of a poor skin fade haircut
Choosing the wrong type of fade for your facial structure and hair system can compromise your overall appearance. The consequence of a poor fade not only affects the blend and compromises the clean fade look, but your hair system can also look noticeable and unnatural.
Best hair systems for skin fades
Choosing a hair replacement system can be challenging if you're new to the game. But now that you're keen on getting a skin fade, you should decide whether you prefer a natural-looking or durable hairpiece.
In the short term, a more natural-looking hairpiece can be beneficial as given that it won't last as long as a durable hairpiece, your fade will essentially last as long as the hairpiece. Natural-looking toupees usually come in the form of lace or ultra-thin skin systems.
Fun fact: the thinner the base of a poly skin unit, the more natural it looks, and the thicker the base, the more durability it possesses.
At Superhairpieces, we offer a variety of hair replacement systems with a natural-looking final product. Our M111 toupee is the thinnest skin base model available on the market. It comes in a clear poly base in addition to v-loop ventilation making the knots undetectable. This hairpiece has a slightly wavy texture throughout the hair system with light hair density, which plays a role in its natural looks.
However, if you desire a different material with enhanced breathability, comfort, and natural looks, you should consider choosing a lace base hair unit as it can offer all that. Our lace models are highly renowned for their natural finish and comfortable wear. However, lace systems are not as easy to attach and remove compared to poly hair units. We offer M105 French lace hair system, M115 Swiss lace hair system, and more! Head to our inventory search for a user-friendly experience to find your perfect hair system.
If you're leaning towards a longer-lasting hairpiece, it might not blend well with the fade due to the sheer volume and hair density. However, once the hair on the sides and back grows, it can seem more natural. Or you could get a regular fade starting anywhere from the 1 or 1 ½ guard for a sharp yet natural look.
At Superhairpieces, you can consult with our stylists about your concerns about skin fades or any other hairstyle you desire. They'll ensure you receive the professional styling advice you need for a natural-looking result.
"I first cut and fade the client's hair before attaching the hairpiece," said Christina. "What also usually happens is if the client wants a skin fade, they go to the barbers first before even coming here for us to do the attachment."
Our experienced stylists put plenty of care and attention to the haircut as it's just as important as the quality of the hair systems.
"I personally want to make sure the blend is more gradual and there are no harsh lines around the perimeter of the hairpiece – I usually do one guard to two guard fades just so the sides can blend in and look natural," she added.
Conclusion
Skin fade haircuts are not a bad choice if you're a hairpiece wearer. It depends on the type of fade you receive, but it's best to stick to the medium to low fades. The type of fade you receive also depends on the shape of your head. If you have a rounder-shaped head, you should go for a higher fade as it will suit your facial structure better.
There are various hair systems suitable for a fade – consult with our stylists to compare and contrast natural-looking hairpieces along with durable units to choose what best suits your lifestyle!
----------------------------------
Don't forget to tag us at @Superhairpieces and #Superhairpieces on your social media channels to get a shoutout! And make sure to like us on Facebook, follow on Instagram, and subscribe to our YouTube channel!