Posted by Superhairpieces on Oct 19, 2021
When it comes to hair replacement systems at Superhairpieces, there are not only many different model numbers which can be hard to understand, but also combinations as far as colors and grey percentages go. As a result, the color codes and SKUs of our products might seem like a bunch of characters which you have no idea how to read.
To help give you a better understanding of our products and how to read them, we have provided this blog post geared towards newer Superhairpieces retail and professional clients.
Hair system model numbers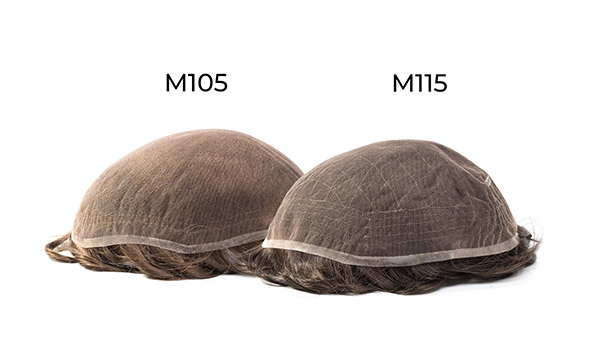 Most of our men's hair replacement systems follow the same basic model number formula. Let's take the M101 thin skin hair system for example. The M stands for model while the 101 is the particular model number. The M101BF, on the other hand, is the same as the M101 except it has pre-bleached knots in the 1" front hairline to give the unit a more natural looking hairline. The BF stands for bleached front.
You'll also find some models beginning with HD. The HD stands for high density which means it has a greater hair density than its equivalent M model. The HD111 Thinnest Skin Base Hairpiece, for example, is similar to the M111 hair system, but has a hair density of 95 to 100% all over while the M111 has a hair density of 80% with 95% on 1" of the rim.
Another name you'll find is Pro which is the Pro Series from Superhairpieces. Although currently discontinued at the moment, these models have three main features compared to their regular equivalent models — colorless roots, nanotechnology invisible knots and premium European-like texture hair quality. A more recent type of model includes our Basic series models which are more affordable versions of our current hair systems. The M101 Basic model will have BSC mentioned in the SKU.
Other model name variations to keep in mind include Perm, P, S, M, L, CC and Afro. Perm simply means the unit's hair is in a wavy perm style while P stands for poly, with the M110P lace front hair system having a zigzag poly cross front while the M110 full lace toupee has none. S, M and L stand for small, medium and large sizes while CC refers to a wide CC-shaped front hairline with an example being the M108CC mono system. Lastly, Afro means the unit has Afro-textured hair quality.
Women's hair system SKUs
Our wigs for women use model names such as Adele wig, Fiona Wig and Coco wig.
Our hair toppers for women, meanwhile, follow an SKU of unit name, inches side to side, inches front to back and hair length in inches. So for example, the EZ Volume 5512 consists of the EZ Volume unit name, 5 inches side to side, 5 inches front to back and a hair length of 12 inches.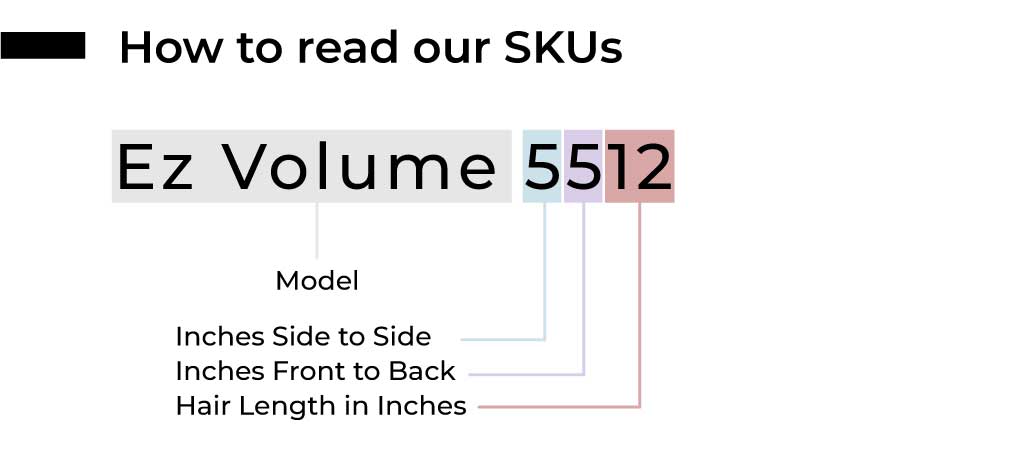 Some things to note are that all EZ Volume hair toppers use a monofilament base while Top Lace hair toppers use a French lace. Additionally, any hair topper unit which has another name beginning with P usually uses regular Indian hair. So for example, while the EZ Volume 7914 makes use of premium Remy Chinese hair, the P44 is a version that only uses regular Indian hair.
Hair system color codes and grey percentages
Now that you have an idea of how to read our hair system models, the next step is our color codes and grey percentages. Not every hair system manufacturer will have the same color system so it's helpful to understand how Superhairpieces has done its color numbering.
Essentially, the lower the number in a particular color range, the darker the shade will be. For example, #2 is our darkest brown color while #7 is very light brown. So if you're purchasing an M111 thin skin system in a dark brown color, the SKU will be written as M111#2. You can find all the colors and color codes Superhairpieces offers in our hair system hair color chart for men and hair system hair color chart for women.
A color ring is also recommended so you can check how exactly the color looks in real life as there can be a discrepancy between images posted on our website. One thing to keep in mind is that we only offer one color — 60RY white hair — for Yaki hair.
Grey hair is usually written as a percentage and follows the color code. Using the previous example, if you want your dark brown M111 to have 20% grey hair percentage, the SKU will be written as M111#220. Grey hair usually consists of Japanese Kanekalon synthetic hair fibers by Superhairpieces which is why there is no need to mention this in the SKU. However, if human grey hair is used, H will be added at the end.
Understanding Superhairpieces SKUs
With all this in mind, you should be able to read the SKUs of most Superhairpieces hair systems with no problem. The infographic below gives various examples of how to read certain hair system models along with their size, version, color and grey percentages: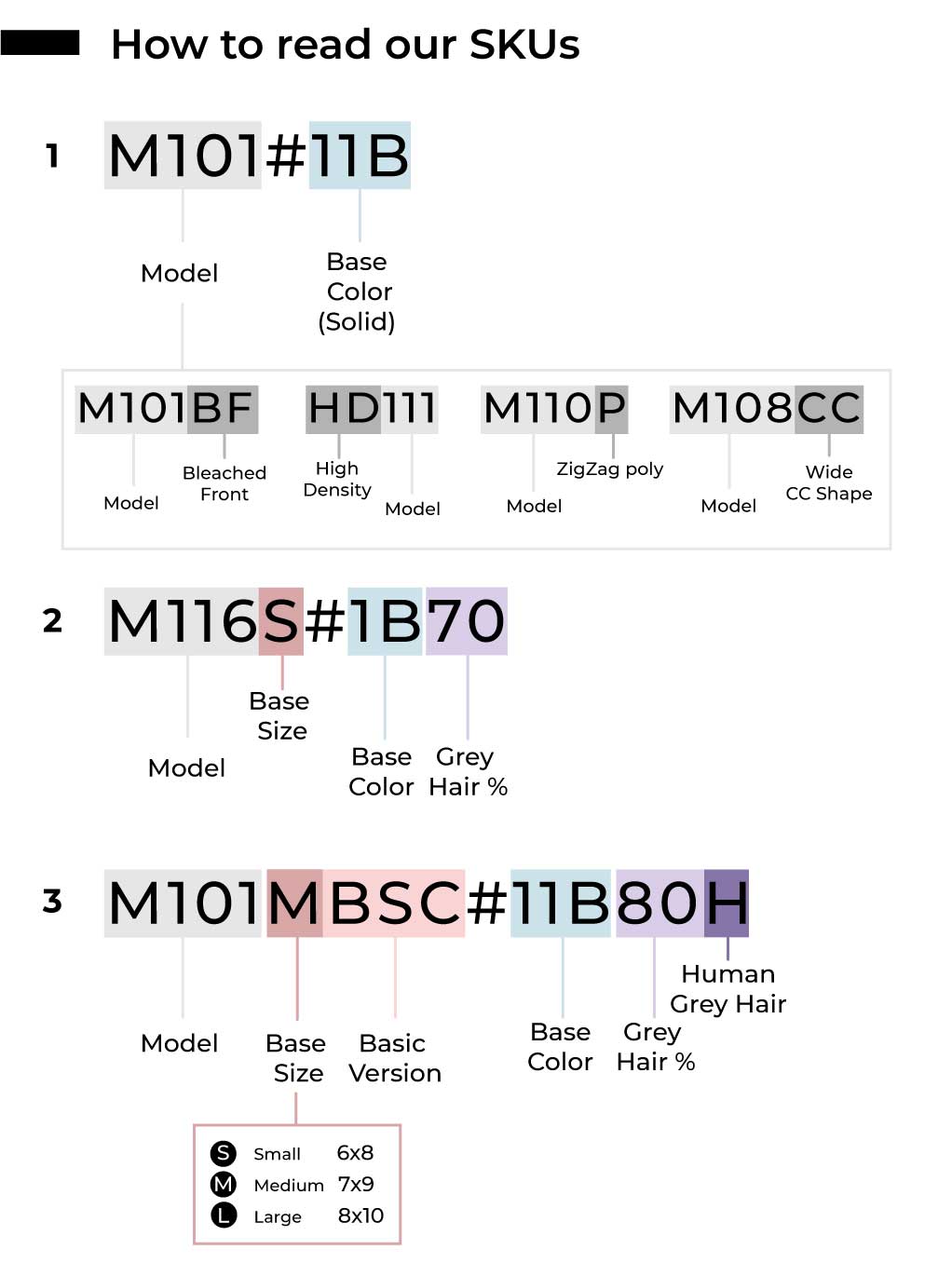 Confident in reading our model numbers, color codes and SKUs? Head on over to our inventory page to check what hair units we have in stock!
---------------------
If you are interested in learning more about wigs, toupees or hairpieces, contact Superhairpieces today at 1-866-814-7879 or email us at sales@superhairpieces.com to set up your virtual appointment.
Need further information? Browse through our website at www.superhairpieces.com (US & International) or superhairpieces.ca (CAN)
Don't forget tag us at @Superhairpieces and #Superhairpieces on your social media channels to get a shoutout!