Posted by Superhairpieces on Nov 25, 2021
While hair replacement systems are for every man dealing with hair loss or balding, not every model will be the right fit. This is natural as not every man will have the same-sized head. The good news is that Superhairpieces offers a wide variety of men's stock hair systems that come in different contour sizes so you're bound to find something that fits you. If you don't know which type of contour suits you or what a contour is in the first place, keep on reading to learn more.
What is a contour?
A contour is essentially the outline of a shape and with hair systems, the outline of your head or head shape. That said, contours are really about the area of hair loss or balding which will be explained later in this blog post.
It's important that you wear a hair system that is suited to your particular base contour. If you get the wrong base contour, wearing a hairpiece could not only feel uncomfortable and unnatural, but there could also be wrinkles, air bubbles, folds or gaps after it's installed which is far from ideal and can ruin the overall hair system experience.
What are the contour types?
At Superhairpieces, we offer three base contour types; regular, deep and shallow.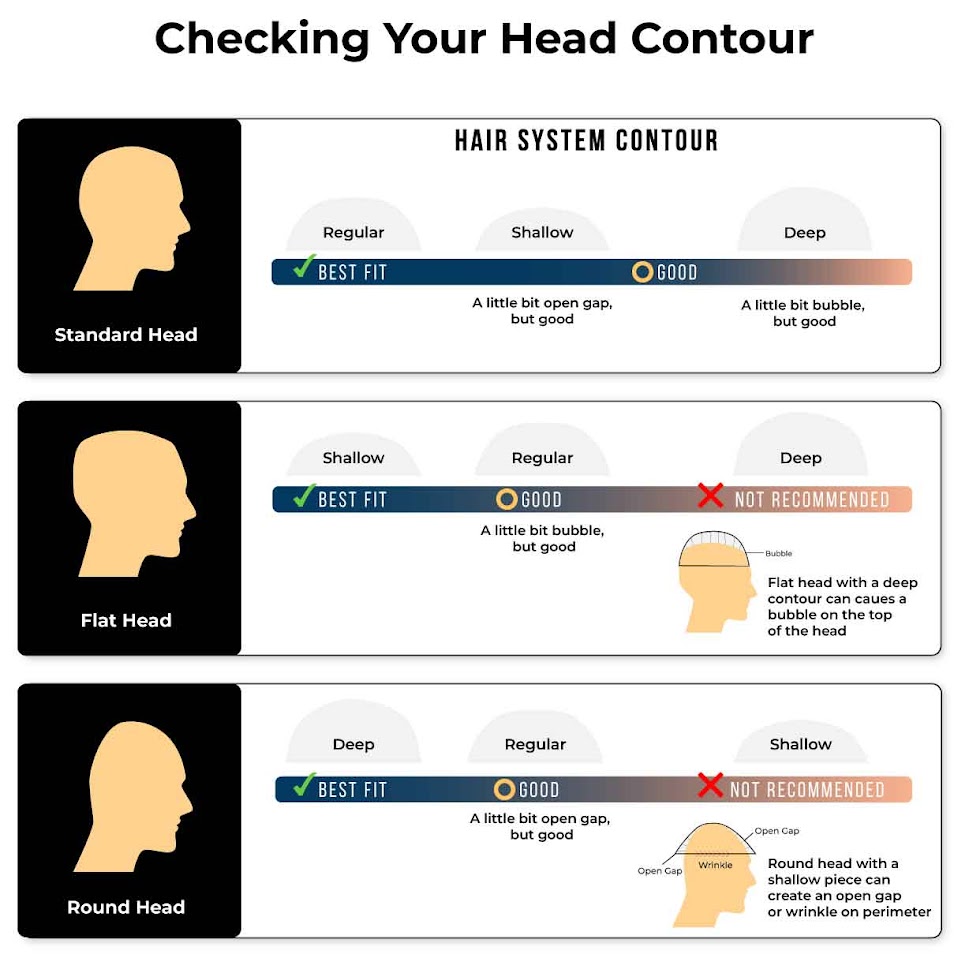 A regular contour is suited to men who have a standard-shaped head and is essentially a universal size that fits most clients. While Superhairpieces carries many regular contour hair systems such as the M100 monofilament top hair system, it does not offer as many as our deep and shallow contour systems. This is because in our experience, more clients tend to require a deep or shallow contour given their balding levels.
A deep contour is for men who usually have a round head with little to no flatness on the scalp at all. Men requiring a deep contour usually have a greater level of balding which extends beyond their crown area. If one wears a deep contour with a flat head, it can cause wrinkles and gaps as well as air bubbles on top of the hair system. An example of a deep contour model is our M108 monofilament hair system.
A shallow contour is for men who have more of a flat surface on their head. This is usually the case with those who have square-shaped heads, but it's also possible round faces can have a flat head. However, if you have a round-shaped head, wearing a shallow contour system could create an open gap or wrinkles on the perimeter. Usually, clients with a small surface area go for shallow contour hair systems as their balding doesn't go beyond the crown area.
Front contour sizes
In addition to the shape of the head, there's also the front contour to consider. This looks at the shape of the front hairline and the main ones are the A, AA, C and CC-shaped front contours.
This is illustrated in the picture below: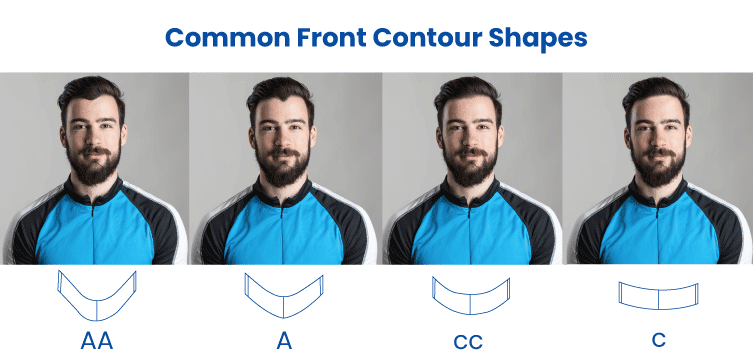 However, this is not as important as the base contour as when a hair system is installed, you will be shaving off the front hairline regardless. Superhairpieces also mostly offer A-shaped front contours with a few exceptions that are CC-shaped. Of course, everyone is different and if you have a preference for CC, you can opt for a model such as the M108CC mono top hair system.
Why it's important to know the front contour of your hair system is so that you choose the right tapes for the attachment process. So if for example, your desired hair system has a CC-shape front contour, you will need CC-shaped tapes. Some CC-shaped tapes that we offer include the 3M Daily Clear CC Tape, Blue Liner CC Tape and Red Liner CC Tape. Browse more wig tapes.
How do I know which hair system has my contour?
Now that you're aware of contours, you will likely keep them in mind when selecting your next hair system. With that said, how do you check which hair system model has the right contour for you? One way is to look at the product specifications of your desired hair system to not only check the base contour, but the front contour as well.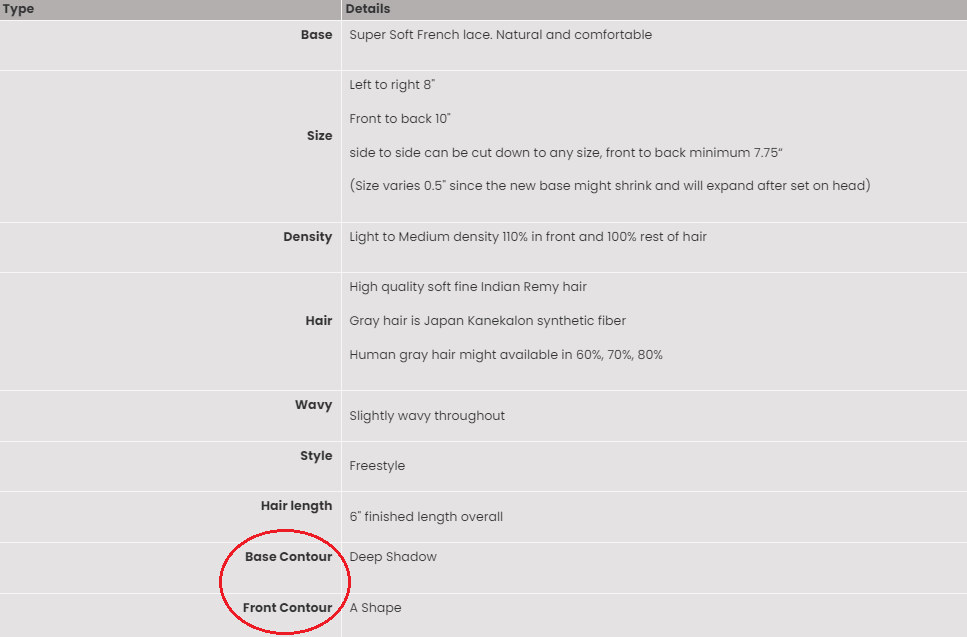 Alternatively, if you've not selected a hair system, you can filter out our models by searching by contour. This way, if you're more suited to a deep contour, you can view just our deep contour hair system models.
Conclusion
It's not necessary that you absolutely must wear the contour type that is suited to your head. After all, many hair system wearers are unaware of contours to begin with and it's possible your hair system will still fit correctly with a different contour group. However, it certainly helps to know which contour is right so that you have the best possible fit. Interested in learning more about hair systems? Browse through our website at Superhairpieces