Posted by Superhairpieces on Dec 10, 2020
Seen a few front hairlines that aren't a straight edge and wondering why they were designed that way? Well you have come to the right spot.
The bump like hairline you see is what is known as a SCALLOP. Scallop front can be found in our stock models - M100 & M108.
Why Have Scallop Fronts?
Scallop fronts are built to trick the eye from seeing a straight line going across the front hairline. Most clients feel that having a straight edge looks unnatural. Therefore, the bump-like appearance allows the hair to follow that pattern and take away from having a straight line appear across the forehead.
If you don't have a lace front or very thin skin in the front hairline of your hair system, the scallop front is a good option. Now scallop front, although can be placed on any hair systems, we do not recommend them on lace fronts as it will fray the hairline a lot faster when it is cut in a zigzag pattern.
Scallop fronts are best on skin/poly bases particularly when the skin/poly front hairline material is more than 5 mils thick. Anything under 5 mils the skin is almost invisible and it just blends like a second skin. It is not necessary to have a scalloped front for super thin skins.
_____________________________________________
In the diagram below you can see that there are different scallop fronts. This is typically used in placing custom orders. For more defined scallop fronts like #2 and #3, where the bottom bend is a bit deeper can be a little difficult when putting on glue or tape. We find that these edges do tend to lift a little more quickly, but some clients do prefer this as it gives a more natural-looking appearance.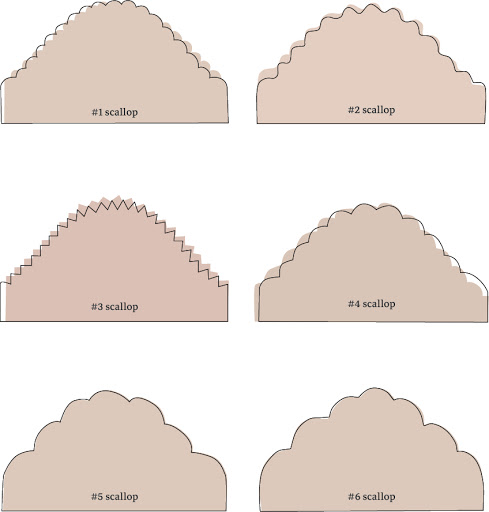 The rounder & larger the scallops are, the easier it is to apply adhesive at the front. The scallop front is a preference and does require some trial and error when requesting it on custom orders.
Our hair systems have more of a rounder scallop. The M100 is a #1 and the M108 is a #5. Based on customer feedback over the years, these scallop sizes were the most requested on these specific hair systems.
_____________________________________________
To find out which scallop would work best for you, contact one of our consultants today! Contact us at 1-866-814-7879 or email at sales@superhairpieces.com to set up your virtual appointment.
Be sure to subscribe to our email list to ensure you get all the product information you need.
Need more information? visit our website at Superhairpieces (US & International) or superhairpieces.ca (CAN)
Don't forget to Tag us @Superhairpieces & #Superhairpieces on your Social Media Channels to get a shout out!