Posted by Superhairpieces on Nov 18, 2022
For many people, November represents quite a few things. There's Thanksgiving, the fact that it's the penultimate month of the year, and for others, it means deals, deals, and more deals with Black Friday fast approaching! This year is no different, as at Superhairpieces, there is plenty of money to be saved whether you want wigs, hair toppers, men's toupees or hair extensions. In fact, it's our biggest sale yet!
So keep on reading to learn more about our Black Friday offerings this year with our deals for hair replacement systems going live early as of Friday, November 18th, 2022 — giving you more than a week to take advantage of this huge sale!
Note: Black Friday discounts will be applied automatically at checkout.
Women's hairpiece deals for Black Friday
You can now save up to $90 on select women's hairpieces…and you can be rest assured there were no price hikes for any of these products prior to the sale either.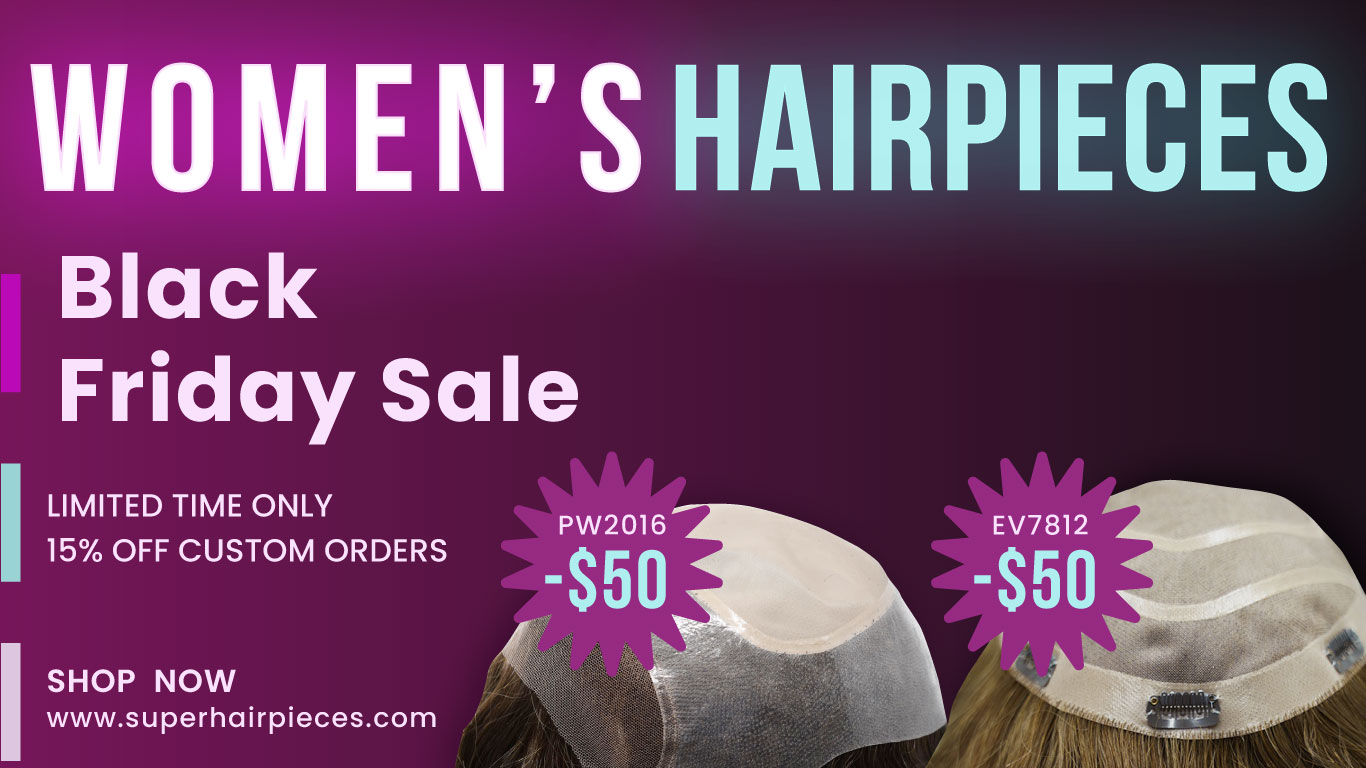 If you require a partial wig for a more advanced level of hair loss but not total hair loss, the PW2016 Partial Wig is a great option which you can save $50 on. This is a partial wig with 16 inches of premium Chinese Remy human hair that makes use of a double mono center, a natural-looking lace front, and clear poly on the front and back for a more secure attachment.
Alternatively, there's the EV7812 monofilament silk clip-in hair topper that comes with a poly skin perimeter. It's comfortable to wear, easy to attach and remove, most importantly, great for adding volume to your existing natural hair with its premium Chinese Remy human hair. You can also avail $50 off on this women's top piece.
Don't worry; there's more savings with our hairpieces for women!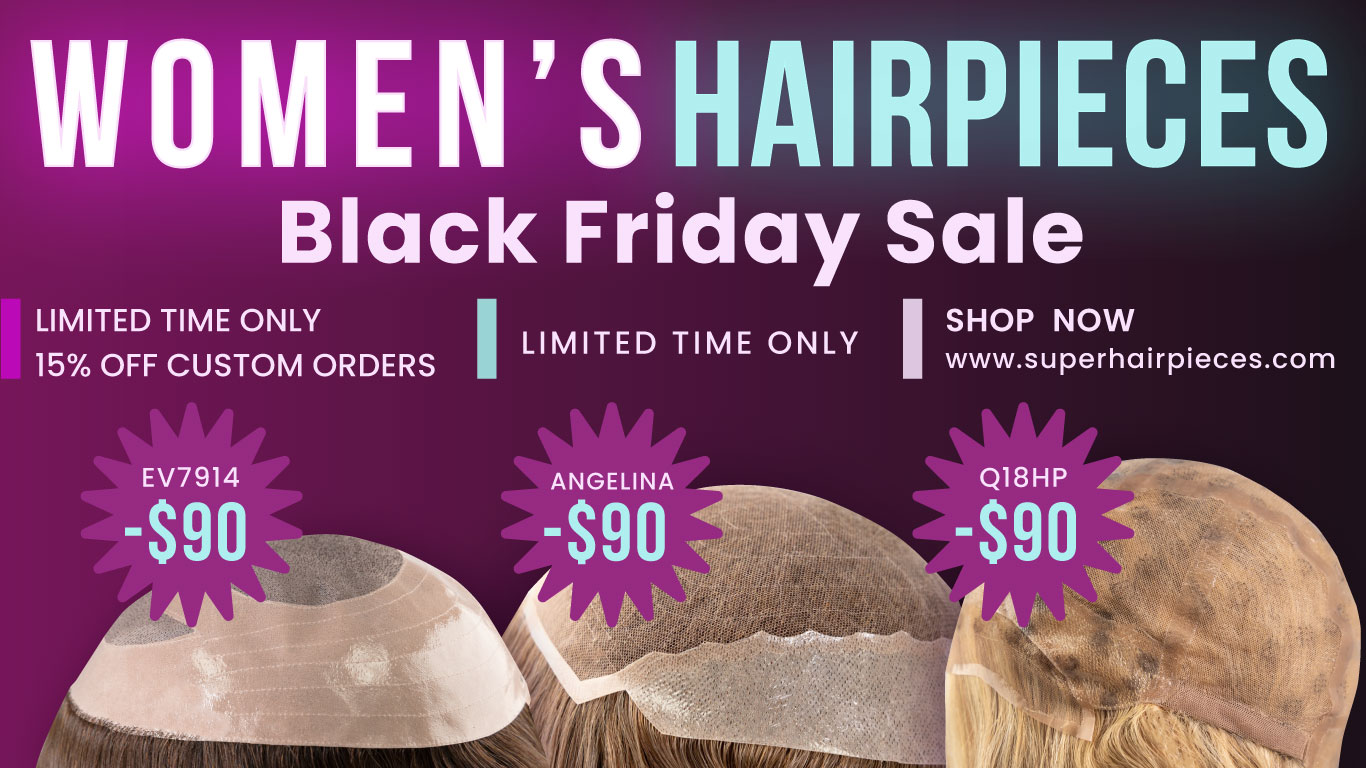 Our medical wig Angelina uses premium Chinese Remy human hair and comes with a lace front to deliver an undetectable look. One of our most popular wigs for women, you can save $90 on this hairpiece! Learn more about Angelina and its features in the video below:
Additionally, you can save $90 on hair toppers like the Queen18 HP and EV7914, both of which also use premium Chinese Remy human hair. It should be noted that this hair is the highest quality luxury hair available and discounts on such hairpieces don't come so often, so make sure you take advantage of this sale!
If you're looking for a more specialized option for your hair loss, you may be interested in a custom made order where you can fully customize your women's hairpiece down to the last detail. There's savings to be made there as well, as we are currently offering 15% off all women's custom orders for a limited time only!
Men's hairpiece deals for Black Friday
Men's hair systems are more affordable than wigs and hair toppers as a whole; however, there are still plenty of savings available.
The biggest standout is that you can save $50 on our M178 and M179 men's toupees. Both these models were introduced during the pandemic, and are great for a decent mix of durability and realistic appearance.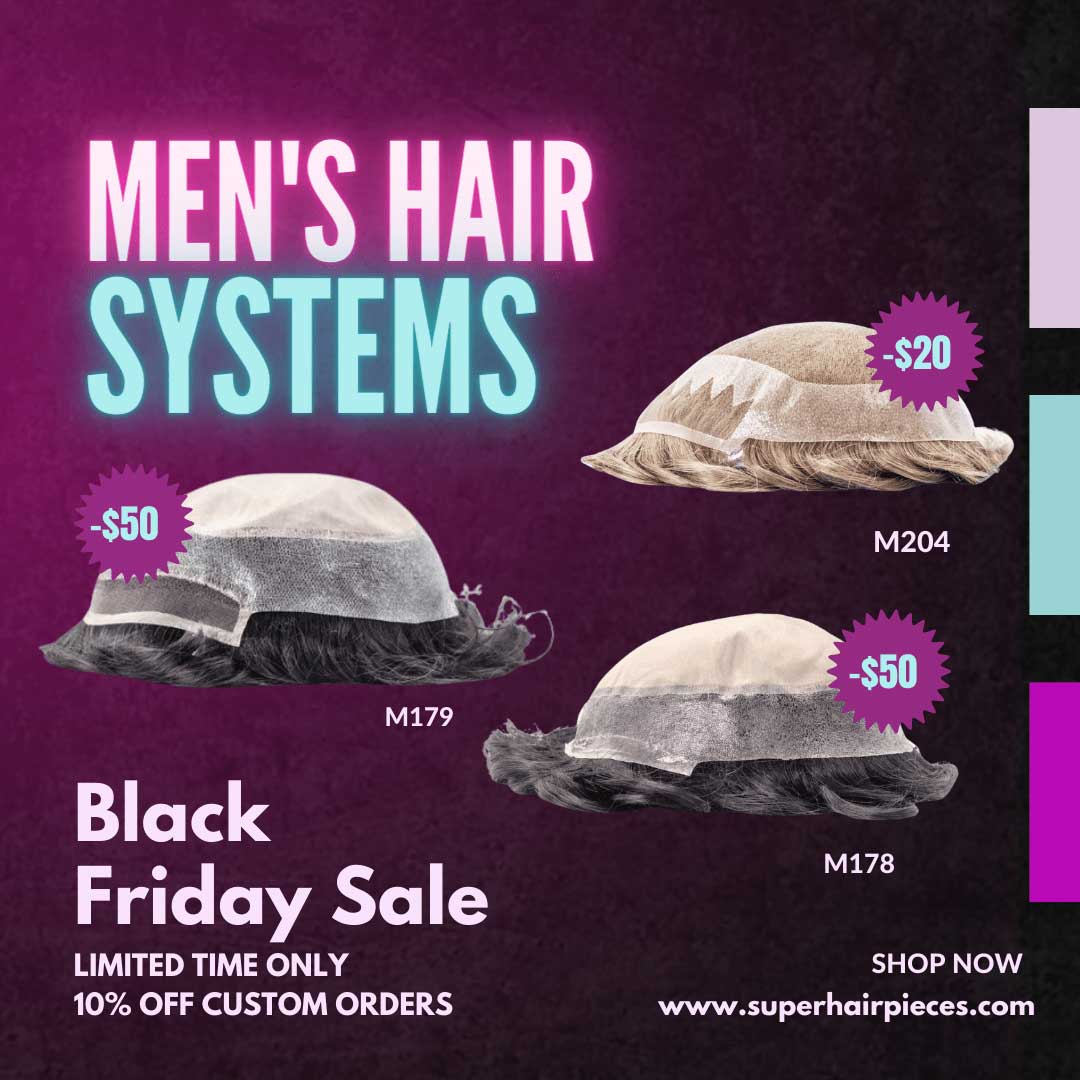 We are also offering savings on more realistic and natural units such as the M204, M108BSC, and M161V where you can save $20 on each of these stock hair systems. As an example, you can see just how natural-looking and age-reducing the M204 can be in the video below featuring Superhairpieces client Harsh: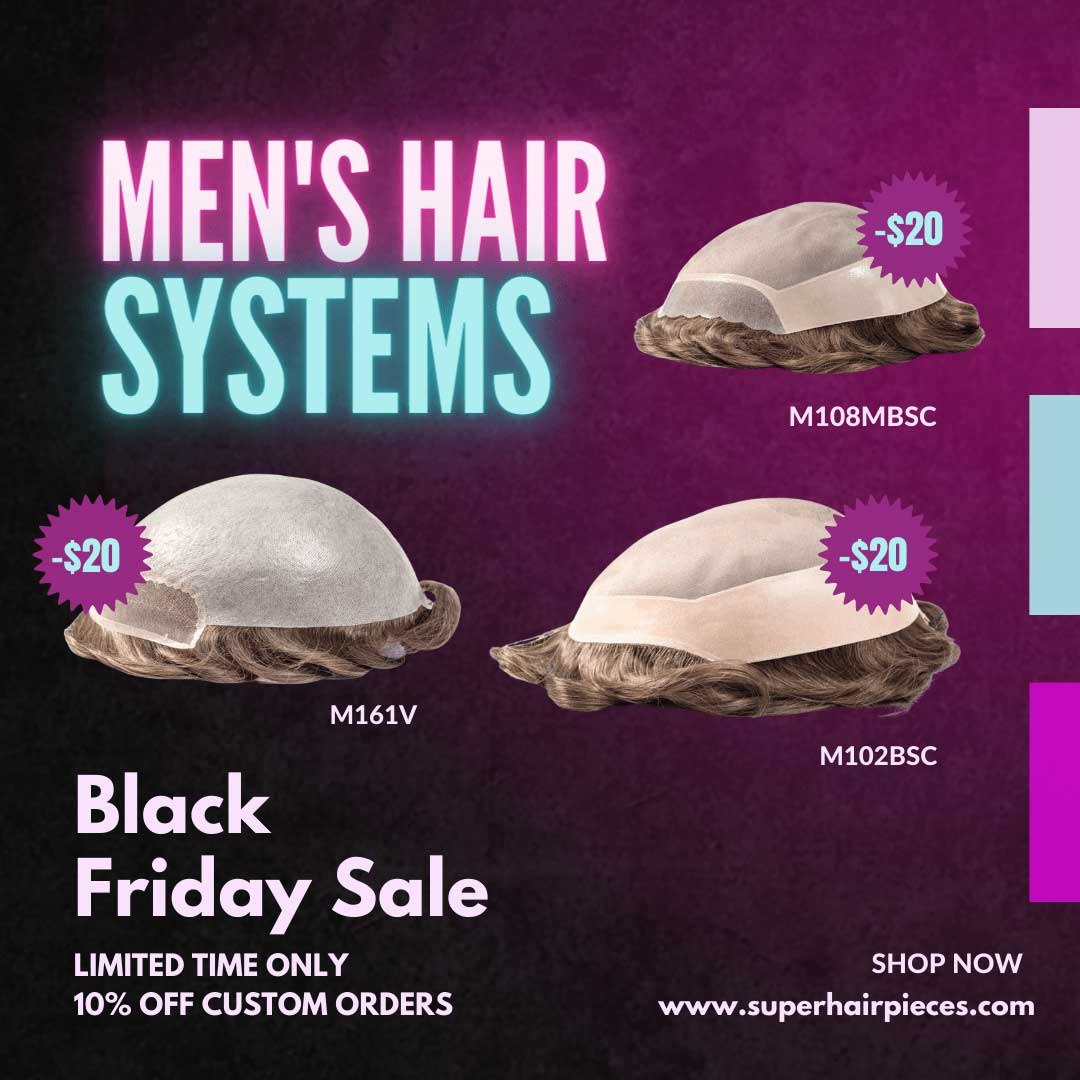 The M102 Basic is also on sale where you can save $20 off; however, this hair replacement system is more focused on durability rather than an undetectable appearance. With that said, if you want a system that will last, this is a great choice as with the right care and regular maintenance, this system can last six months or potentially more.
Finally, there's savings to be made on men's custom orders as well as we are currently running a promotion where you can get 10% off all custom made orders for men's hairpieces.
Hair extension deals for Black Friday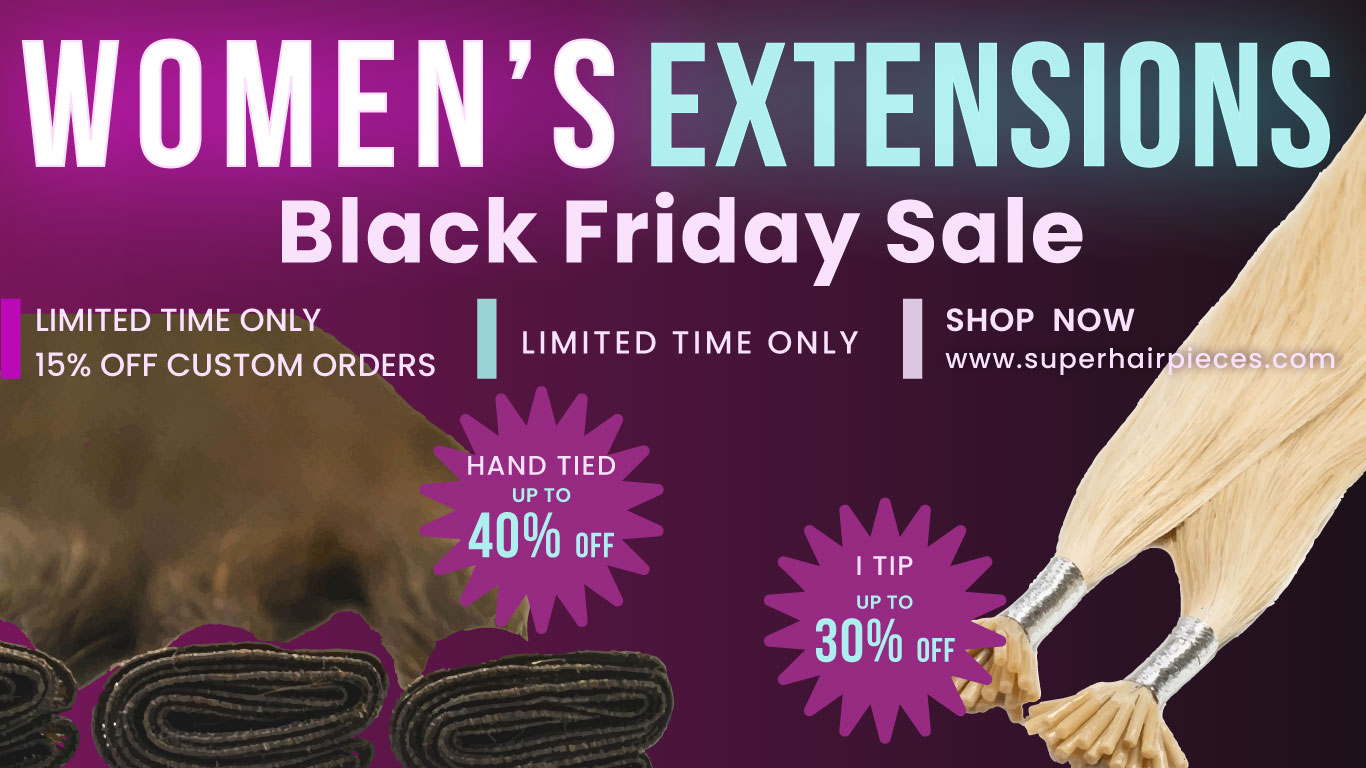 Perhaps you don't have any major hair loss or bald patches, and instead, are looking to add length or color to your hair without compromising its overall health. In that case, hair extensions are your best friend and we have savings there for you as well!
Our hand-tied weft hair extensions are currently available for up to 40% off. Another option is our i-tip hair extensions that are available for up to 30% off in both 4A and 5A quality hair. Not sure what 4A or 5A quality hair is? Watch our quick explainer on it below:
Both these extensions are great for achieving a realistic look without the need for any heat, tape, or liquid adhesives. Not to mention the fact that they are also very secure.
Get beautiful hair this Black Friday by making the most of these special savings!
----------------------------------------
Interested in learning more about hairpieces? Browse through our website at www.superhairpieces.com (US & International) or superhairpieces.ca (CAN)
Don't forget tag us at @Superhairpieces and #Superhairpieces on your social media channels to get a shoutout! And make sure to like us on Facebook, follow on Instagram and subscribe to our YouTube channel!