Posted by Superhairpieces on May 30, 2019
What is equally important to installing a hair replacement system properly is cleaning and maintaining it. This ensures that your wig or toupee is clean, bacteria-free and maintains its durability and health.
While this can seem daunting for some who may prefer to have their hair systems cleaned by a professional or at a hair salon, it's actually a very simple process which anybody can do at home. So with that said, here is how to clean a hair system in just five steps.
How to clean my hairpiece, toupee and wig - 5 Step Process
What supplies do I need for cleaning my hair system?
You will need just a few items in order to clear your hair system, most of which you should already be having at your disposal.
Plastic or stainless steel container capable of holding liquid solvent
Adhesive solvent
Dish soap
An old plastic card
Nail brush
Vent brush or wig comb
Wig stand (optional)
Step 1: Remove the hairpiece tape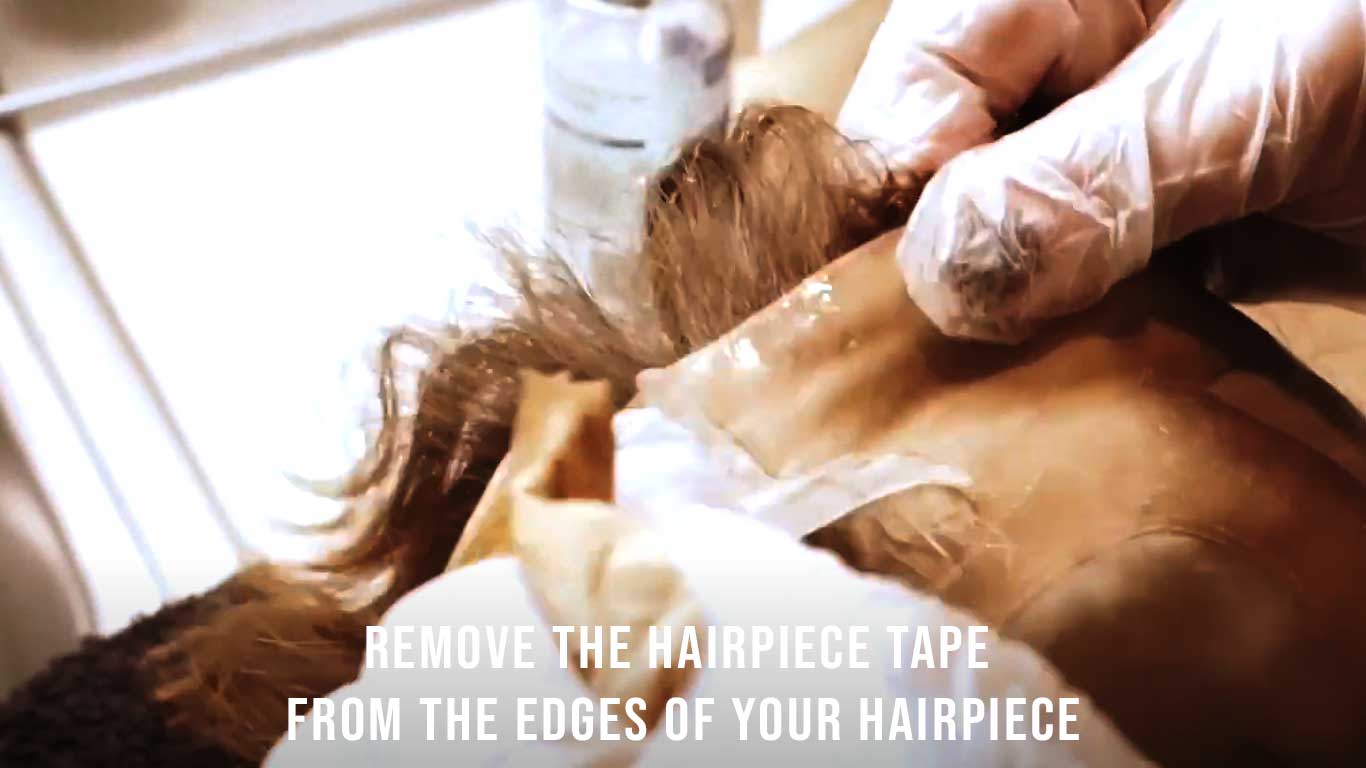 Once you've removed your hair system from your scalp by using an adhesive remover, you will need to remove the hairpiece tape from the edges of your hairpiece. Note: For some human hair wigs, there is no adhesive required so this step can be skipped. If you used hairpiece glue, you can skip to step two.
Use your fingernails to gently lift the edge of the tape off your hairpiece. A pro tip is doing this under warm running water which makes the process easier.
If you want to get the tape off the lace materials without the lace tearing, dip it into some solvent (step two) and let it sit for a few minutes before removing it.
Step 2: Soak the hair system in adhesive solvent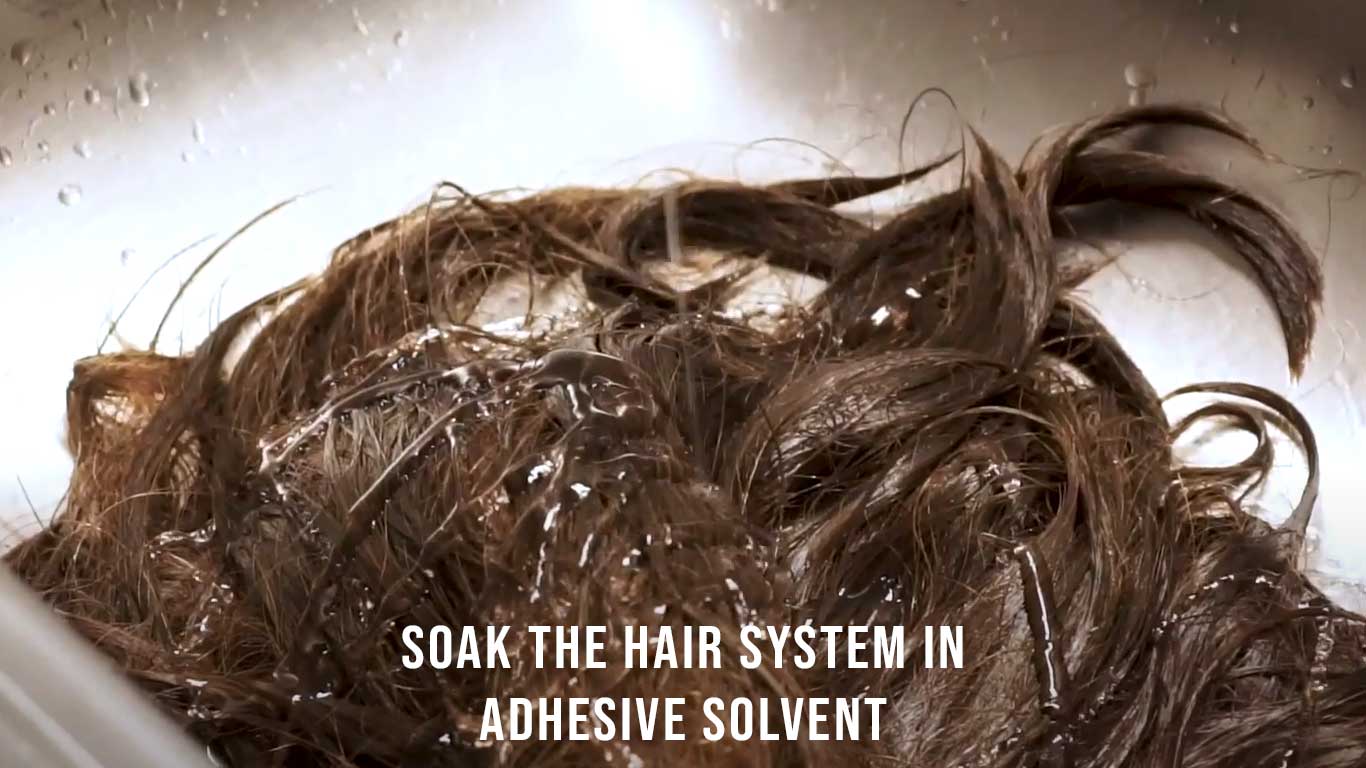 Soak the hair system in a plastic or stainless steel container capable of holding liquid solvent. Always do this in a well ventilated area. Alternatively, you can fill your sink up with water and mix it with the solvent before submerging your hair system.
We recommend the KP Pro Solvent as it uses an alcohol, oil and grease-free formula which is ideal for those who have sensitive skin.
Soaking times may vary greatly depending on the type of hair system and adhesive you're using. When removing tape residue typically, it should only take about five to 10 mins of soaking time to remove any extra adhesive. When removing wig glue, this can vary between 20 mins to even 24 hours of soaking time.
While your hairpiece is soaking, wash your hair, scalp and entire head thoroughly at least two times with a good shampoo. It is recommended to use scrub on your scalp to remove excess dead skin. This will help with adhesion when you reinstall your hair system.
Step 3: Clean the hair system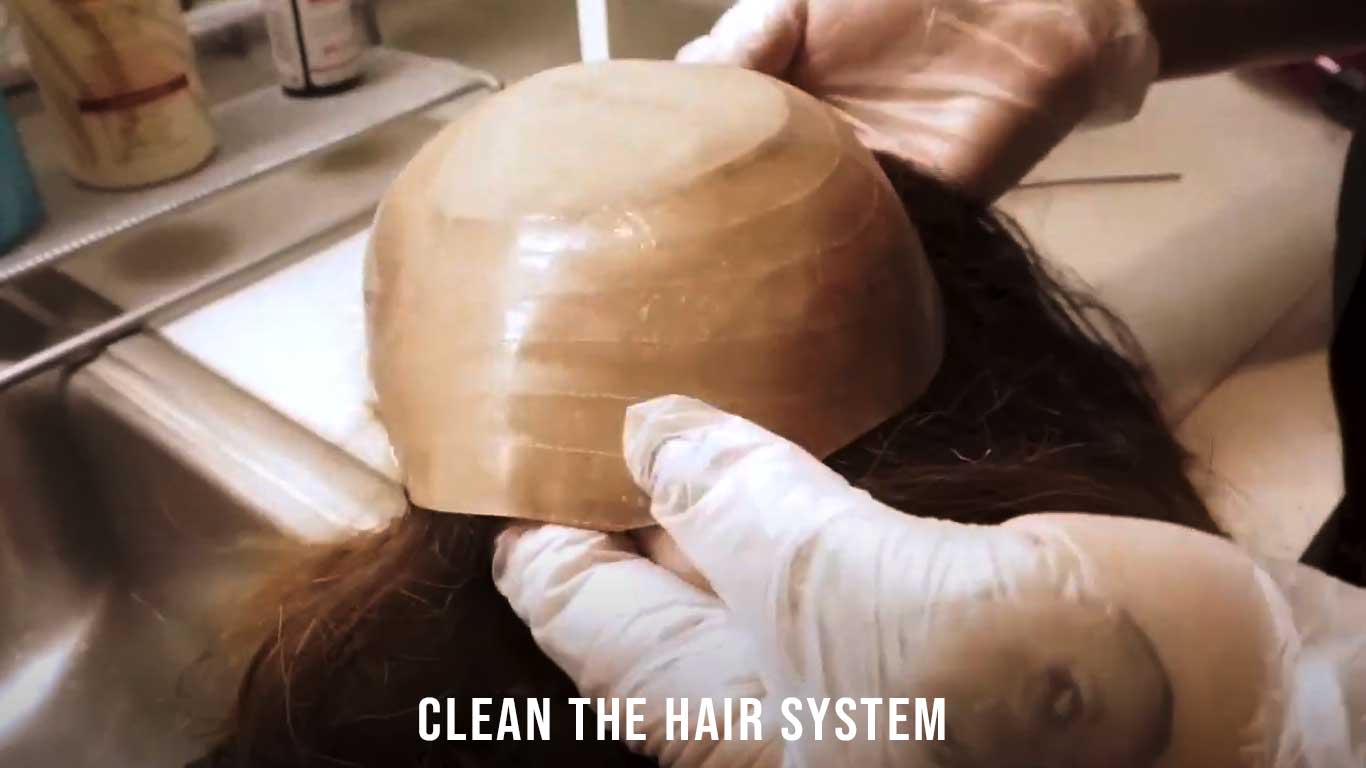 Once your hair system is soaked adequately, remove your hair system from the solution and lay it inside out in an empty sink (the hair will be on the bottom). The next step is to remove any adhesive residue.
To clean the lace areas, you can use an old plastic card (gift cards are great for this) and gently scrape outwards. Once that's done, gently brush any broken down adhesive residue with a nail brush to loosen and break it free.
To clean the skin areas, use a gift card to scrape any excess residue off with gentle, short vertical strokes.
After getting most of the excess residue off, place your unit back into the container full of solvent for two to three more minutes.
Step 4: Rinse the hair system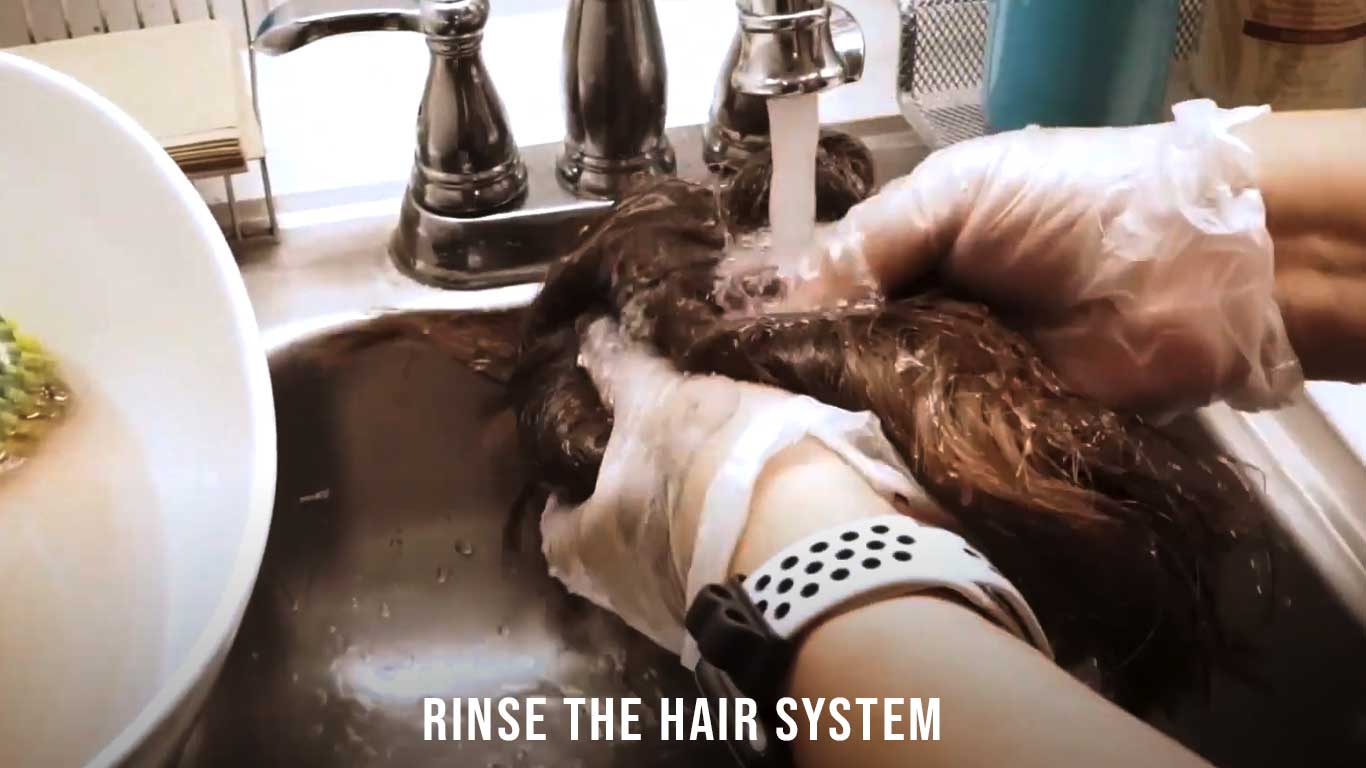 Moving your system from the solvent back into the sink, squirt a liberal amount of dish soap onto the base while it is still dripping wet with solvent. At this point, any remaining adhesive residue, if any, will have lost all tack.
Gently glide the nail brush across the edge of the base and out through the hair — all the remaining adhesive residue should slide off easily. After a few minutes of brushing, rinse your system with high pressure lukewarm water down through the base. (Repeat this step a second time)
If there is still adhesive residue in your hair system, you probably didn't soak it in the solvent long enough. Go back and repeat that step.
Step 5: Shampoo and condition the hair system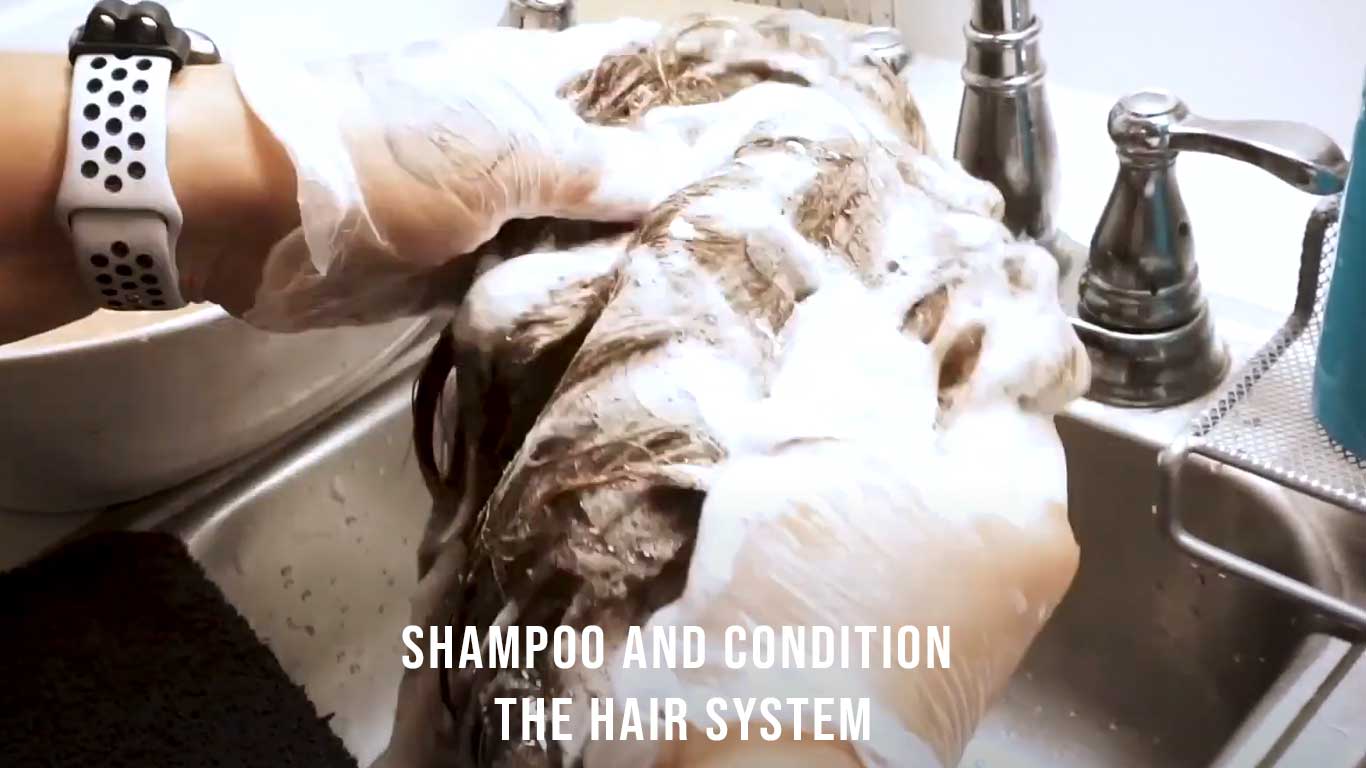 Finally, after rinsing thoroughly, wash the unit again, this time using a mild shampoo like our Keune line to balance the acid level. Lastly, use a wig conditioner. We recommend Pura D'OR's Biotin Conditioner.
You can use a wig comb for when you're applying shampoo and conditioner through the hair. For the best results, we recommend a vent brush.
Your unit should now be clean and clear of any old adhesive residue. Wipe it with alcohol and leave it to dry on a wig stand or somewhere without any direct sunlight.
Once that's done, you're now ready to reattach and begin wearing the fresh (like new) system!
If you prefer a visual explanation of how to clear your hair system, you can also view our video tutorial below:
-----------------------
Interested in learning more about wigs, toupees or hairpieces? Browse through our website at www.superhairpieces.com (US & International) or superhairpieces.ca (CAN)
Don't forget tag us at @Superhairpieces and #Superhairpieces on your social media channels to get a shoutout!